All You Need to Know About the Bizarre Chest Tattoo on UFC Fighter Darren Elkins
Published 07/22/2021, 11:42 PM EDT
By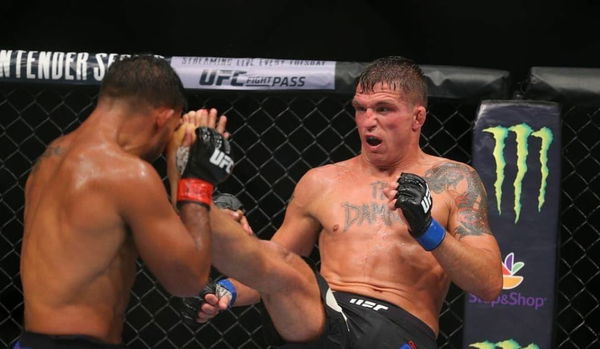 In the 28 years that the UFC has been putting up fights, fans have come across plenty of fighters sporting tattoos that are questionable. Darren Elkins is one of these fighters. While he has several tattoos, his 'The damage' chest tattoo invariably takes the cake. As if getting your moniker tattooed on your chest isn't weird enough, the supposed 'artwork' is nothing short of an eyesore. 
A quick scroll through Darren Elkins' Instagram comments will give you an idea of the hilarious trolling the featherweight faced after getting inked. Despite the criticism, he made the following statement in an interview with Ariel Helwani back in 2017.
ADVERTISEMENT
Article continues below this ad
"Tattoos are one of those things where people like tattoos or they don't. They're always criticizing tatoos, and I can enjoy it. I don't regret any tattoos I have and I really like them."
Oddly enough, Elkins made this tattoo addition a few months prior to his unforgettable bout with Mirsad Bektic at UFC 209. It was the same fight that saw Darren Elkins make a courageous comeback in the third round despite taking an obscene amount of 'damage' in the first two.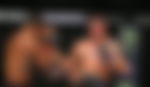 Dana White reacted to 'The Damage' Tattoo    
In 2017, President of the UFC Dana White appeared in an interview with GQ sport where he was asked to guess the name of the UFC fighter based on their tattoos.
While Dana made his positions on tattoos extremely clear right at the start, his reaction to Darren Elkins's 'The Damage' tattoo was beyond hilarious.  
"Those are horrible, horrible tattoos," said Dana in an embarrassed tone. "Get a t-shirt that says 'The Damage' in every color and wear it every day for a month or something but come on."
ADVERTISEMENT
Article continues below this ad
While Darren's chest tattoo came when the longtime featherweight was halfway through a six-fight win streak, the 37-year-old soon found himself going downhill with four consecutive losses.  
Watch This Story: Five quotes from Conor McGregor that will make you his fan
ADVERTISEMENT
Article continues below this ad
However, after his latest submission win over Eduardo Garagorri, 'The Damage' will face Darrick Minner on the main card this weekend at UFC Fight Night: Sandhagen vs Dillashaw.  
Perhaps fans will soon have to face another Darren Elkins tattoo, provided he gets another winning streak going this Saturday. Only time will tell.