"Always Bring Someone Who Can Smash You"- Khabib Nurmagomedov Gives Children Advice at Daniel Cormier's Academy
Published 09/06/2021, 9:08 AM EDT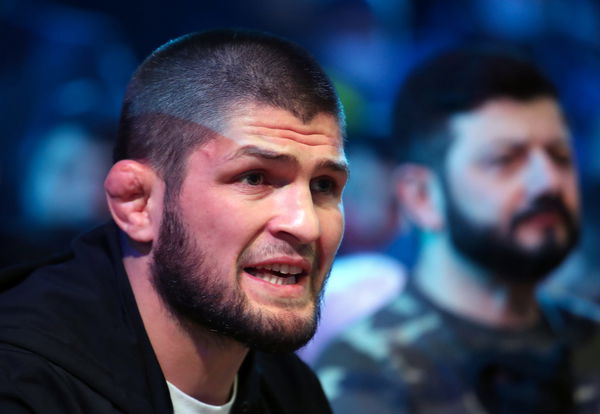 ---
---
Khabib Nurmagomedov retired from the MMA world on March 18, 2021. Ever since then, the MMA legend has been up to a lot of things. Khabib recently took part in a question-and-answer session with former teammate Daniel Cormier and a few children at Dustin Cormier's new wrestling academy. The students seemed very interested in what Khabib was saying and asked him a series of questions about his life and career.
ADVERTISEMENT
Article continues below this ad
Khabib is an excellent fighter with a strong mentality and personality. The Russian gave the kids some useful advice that they can use to improve their MMA training and performance. He talked to the kids about his first fight, his training, learning English, and his fight with Conor McGregor.
ADVERTISEMENT
Article continues below this ad
Khabib Nurmagomedov needed his training partner to be tougher than him
One kid questioned Khabib, "Do you always go with a certain partner or do you simply go with anyone?" Khabib responded, "no, no, I always change." Khabib claims that his training squad never allows him to spar with the same person again and always forces him to switch partners to practise with.
According to Daniel Cormier, Khabib and his good friend Islam Makhachev can practise together every day. They must, however, change their partner regularly. Nobody can train with the same person every day. Khabib and Cormier make it obvious to the kids that they must always change sparring partners for progress.
They've been training together since childhood under Khabib's father. They grew up fighting together in Dagestan and share a bond of brotherhood between themselves.
ADVERTISEMENT
Article continues below this ad
The undefeated Dagestani legend provides the kids with some guidance, telling them to always train with someone who is better than them. "If you want to learn, if you want to become better, always bring someone who can smash you," said Khabib. He advised them to never fight someone they are confident in their ability to defeat in a fight. It is, according to him, the only way to progress. "One month, one year he gonna smash you but you're gonna become better," said the former champion.
Khabib has learned a lot after years of training under his father in Russia and has become one of the greatest fighters in MMA history. His advice to the children would be based on his own experiences with his father and teammates.
ADVERTISEMENT
Article continues below this ad