Amidst Naomi Osaka's Heckling Episode, the Time a Booing UFC Crowd Left a Blooded Al Iaquinta Furious
Published 03/13/2022, 1:09 PM EDT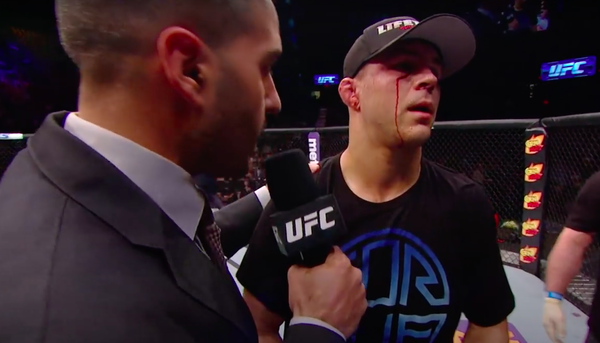 Heckling can be extremely demotivating for any athlete, regardless of winning or losing. An athlete dedicates their entire life to perfecting his or her art. The fact that they get booed or thrashed for their performance can really affect their mental health.
ADVERTISEMENT
Article continues below this ad
The recent tragedy of Japanese tennis player, Naomi Osaka being heckled at Indian Wells, is a perfect example of the negative impact heckling can have on an individual. The tennis champion, Osaka, was reduced to tears after being heckled for her recent loss.
UFC fighter Al Iaquinta also faced a similar situation in his bout against Jorge Masvidal. The crowd booed him even though he won the fight by a split decision.
ADVERTISEMENT
Article continues below this ad
The fight was an extremely controversial one and many fans believe Masvidal won the bout. The winner, Al Iaquinta, didn't seem very pleased by the crowd's reaction.
READ MORE: Do You Love Joe Rogan? Here Are the Best Movies He's Been a Part Of
A furious Al Iaquinta asked the crowd," are you guys booing me? You guys, you better not boo me. I fu**ing fought my a** off… I fought my a** off tonight. "
Joe Rogan deals with UFC heckler
ADVERTISEMENT
Article continues below this ad
UFC commentator Joe Rogan was a stand-up comic much before he started working for the UFC. He followed his passion in the MMA world after he was offered a return to the UFC for the broadcast team. However, the journalist still follows his interests in standup comedy and will have a tour next month, where he will perform.
During a show in his earlier days of standup, Joe Rogan was heckled by a UFC fan for a T-shirt he was wearing. Rogan didn't let it bring him down. In fact, he trolled the heckler in front of the whole audience.
ADVERTISEMENT
Article continues below this ad
He said, "what one more Mickey Mouse? It's Mighty Mouse. I get it at Walmart. No, Walgreens, I got it at Walgreens. I did. Is that bad? I'm only making fun of your shirt because it's silly. Mine's self-admitted silly. I wore it knowing it's silly! You left the house thinking you look fucking cool. That's the difference."
WATCH THIS STORY: Five Times Magomed Ankalaev Obliterated His Opponents Inside The UFC Octagon