Amidst the Release of One-Eyed "Bad A**" Michael Bisping's Documentary, Joe Rogan, Dana White & Vin Diesel React
Published 03/27/2022, 9:33 AM EDT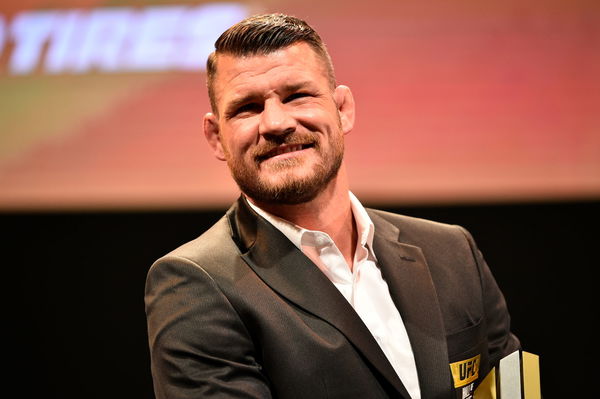 UFC kingpin Dana White takes to Twitter to congratulate one of the pioneers of English MMA and the UFC Hall of Famer Michael Bisping for his new career documentary film.
Michael 'The Count' Bisping is undoubtedly one of the greatest fighters in history to step inside the UFC octagon. He was a complete package of a fighter with amazing trash talk ability and phenomenal fighting style to back it up.
ADVERTISEMENT
Article continues below this ad
The Englishman had a remarkable career with a lot of ups and downs. Interestingly, his story is now released in a documentary film titled Bisping: the Michael Bisping Life Story. UFC president Dana White posted the trailer on his official Twitter account. In the caption, he wrote, "congrats @bisping on a bad-a** career worthy of a documentary. U deserve it all, my brother."
Notably, the documentary also features interviews with some of the notable names in MMA, including Dana White, Joe Rogan, Rashad Evans, Georges St-Pierre, Tito Ortiz, Luke Rockhold, and more.
The film will also feature Hollywood stars like Vin Diesel, Mickey Rourke, Scott Adkins, and Michael Jai White. It was screened exclusively at the Manchester Film Festival on Monday, March 14th. And is currently available on Bisping's official website for now but will soon release on Netflix, according to the Englishman.
WATCH THIS STORY: Greg Hardy, Irwin Rivera, And Other Fighters UFC Released In March 2022
Michael Bisping: A true legend of the sport
'The Count' hails a 30-9 professional MMA record under his name. Although he had a few setbacks on his resume, Bisping overcame them with some stunning wins. Sadly, in 2013, in a fight against Vitor Belfort, 'The Count' suffered a gruesome eye injury that put his career in jeopardy.
However, the Englishman overcame all the odds and returned to the UFC octagon. Despite the injury, Bisping put on a great performance and won against one of the biggest names in the sport, Anderson Silva.
ADVERTISEMENT
Article continues below this ad
Bisping's win over Silva opened the gates for his first-ever UFC title shot. After 23 UFC fights, 'The Count' received a shot at the middleweight title against Luke Rockhold in 2016.
He took this fight on 17-day notice and defeated Rockhold to become the first-ever British UFC champion. His journey from the eye injury to becoming the UFC champion is a legendary tale that will be told by many fight fans and pundits.
ADVERTISEMENT
Article continues below this ad
Later, after one successful title defense and two-fight skid, 'The Count' retired from professional fighting. However, he is still blessing the sport with his beautiful commentary and a podcast channel.
What are your thoughts about Michael Bisping's documentary film? Let us know in the comments below.