Analyst Reveals Absurd '10-8' Scorecard for Charles Jourdain vs. Shane Burgos as Fans Call Robbery at UFC Long Island
Published 07/16/2022, 4:05 PM EDT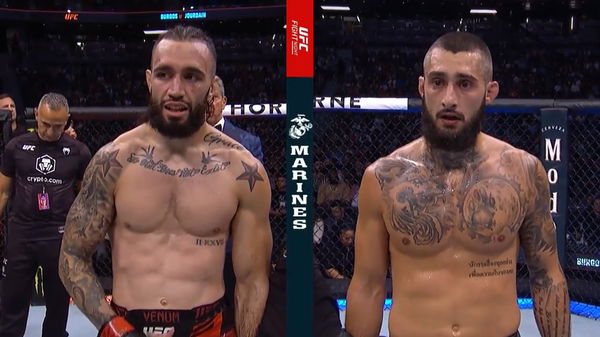 UFC Fight Night: Ortega vs. Rodriguez had the fans at the edge of their seats after witnessing the fight between Shane Burgos and Charles Jourdain. Ultimately, Burgos got the better of Jourdain and won the fight via a majority decision. This blockbuster fight sparked controversy after it was revealed that one of the judges scored the second round "10-8."
ADVERTISEMENT
Article continues below this ad
Round 1 of the fight started with the two men testing jabs against each other. Burgos took charge and pressed Jourdain against the fence. This followed by him locking a body triangle and trying to submit Jourdain. Unfortunately for him, Jourdain didn't tap and proceeded to reverse positions and scramble out. Jourdain then tried to submit Burgos with a choke of his own, but wasn't successful.
ADVERTISEMENT
Article continues below this ad
Round 2 featured Burgos dragging down Jourdain by taking his back. Burgos displayed his ground skills by totally controlling Burgos and making him waste energy. Burgos also attempted a decently tight choke across Jourdain's jaw. Sadly for him, this choke wasn't tight enough and Jourdain survived for the next round.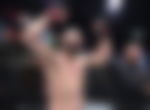 Round 3 saw Jourdain completely dominate Burgos with his striking skills. Burgos had no answer for him and took on a lot of punishment. Jourdain's pace was too much for Burgos to keep up with. All of this wasn't enough for Jourdain to earn a victory, as Burgos won the fight via a majority decision at the end of three rounds.
The MMA Fans React to the Absurd Scoring
MMA fans were not happy with the way the second round was scored. Although Burgos had plenty of ground control, he had only four significant strikes in the whole round and some fans felt that this shouldn't translate to one of the judges scoring the round "10-8." Fans reacted furiously on Twitter.
So Mike Bell had it R1 Jourdain, R2 10-8 Burgos, R3 Jourdain.

Burgos officially registered 4 significant strikes in Round 2.

— Aaron Bronsteter (@aaronbronsteter) July 16, 2022
that's quite the scorecard lol. I had assumed round 3 was the 10-8 for Jourdain.

— Kevin Hill (@kevinhill92) July 16, 2022
Don't think you can call that R2 a 10-8 honestly, he had his back for a while but Jourdain never looked in serious danger.

— Max (@Maxthekillbot) July 16, 2022
ADVERTISEMENT
Article continues below this ad
With this fight done and dusted, Burgos has now won five of his last seven fights and is currently on a two fight win streak. He now has a professional record of 15 wins and three losses. As for Jourdain, he has lost two of his last four bouts and will be looking to avenge the loss in his next bout.
ADVERTISEMENT
Article continues below this ad
WATCH THIS STORY – Tyson Fury, Kamaru Usman, Dana White And Others React To Mike Tyson Battering A Drunk Fan On A Flight
What did you think of this fight? Do you agree with the judge's scoring? Let us know by dropping your opinions in the comments below.