"Baddest mf'ers in the Sky"- Jorge Masvidal Lauds Us Air Force
Published 12/04/2020, 9:45 AM EST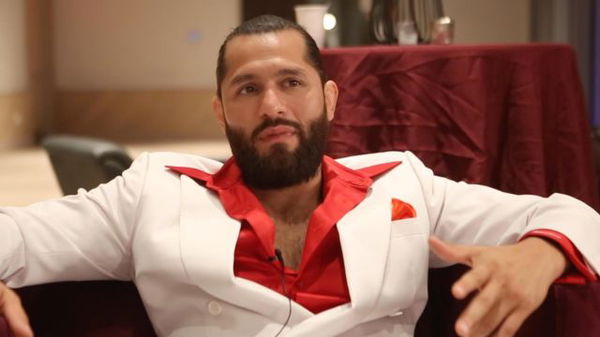 ---
---
Jorge Masvidal recently posted a video of him on YouTube where he was seen riding with the U.S. Air Force's F-22 Demonstration Team and F-16 Viper Demonstration Team. Masvidal was visibly ecstatic about the experiment. "Gamebred" mentioned it as the "most humbling" experience of his life.
ADVERTISEMENT
Article continues below this ad
Very few men get to experience such opportunities of getting involved with the defenders of the skies. Masvidal seemed to make the most of his chance.
ADVERTISEMENT
Article continues below this ad
Fans can see Masvidal expressing his desire to become a pilot.  He said, "Is it too late to become a pilot? Just give up the fighting and full blast switch on over here. I mean, I got the reflexes, right?"
Jorge Masvidal claims he felt defeated
Masvidal went up with the air force's crew high up in the sky, where the F-16 viper and F-22 models got into a friendly competition. The most difficult part for the UFC fighter seemed to be in adjusting to the G-force. Following the flight, the UFC fighter said, "I feel like a defeated person man being on that jet. That jet kicked my butt. The speed, the power, the technology. WOW! When they cut the corner, you just feel like an ant."
He also compared the experiences of fighting against an opponent with the thrill of flying high in the air.
"Being in the ring is a joke man. You're up against another human being. This thing is going above 500 miles per hour. You're fighting elements. Humans the same as me, they live, they breathe. It's a joke compared to this. It's not comparable." 
Masvidal posted a lot of him flying
ADVERTISEMENT
Article continues below this ad
Masvidal has been out of action since UFC 251, where he lost to Kamaru Usman via decision after stepping in on 6 days' notice. Nothing about his next fight has been announced yet. He still reigns as the BMF champion and fans believe he will fight Colby Covington next.
ADVERTISEMENT
Article continues below this ad
MMA enthusiasts can't wait to see "Gamebred" back in action. But, the Miami native American Top Team member seems to be enjoying his off time to the fullest. Who should Masvidal fight once he returns? Let us know your thoughts.