"Brandon Moreno Better Thank God"- UFC World Including Dana White & Belal Muhammad Swoon Over Brandon Rovyal's Incredible Finish
Published 05/07/2022, 9:07 PM EDT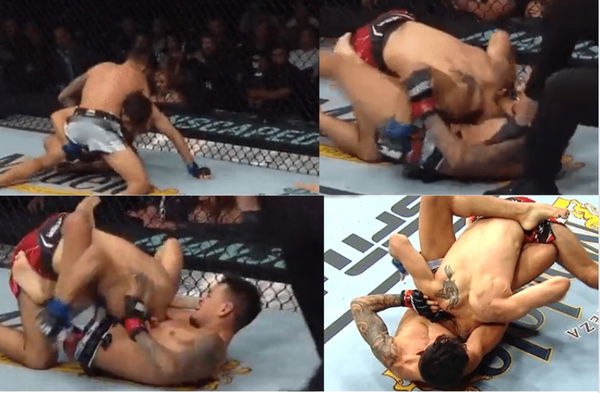 The UFC 274 prelims just produced one of the rare sights that fans don't get to witness so often. American mixed martial artist and flyweight contender, Brandon Royval, displayed a grappling master class against a very game Matthew Christopher Schnell. 'Danger' attempted a takedown early in the first round, but did not expect what followed.
ADVERTISEMENT
Article continues below this ad
Schnell initiated a takedown and attacked Royval with a guillotine choke. But the 29-year-old mixed martial artist was more than prepared to deal with such adversity as he reversed the position. Not only that, but Royval even managed to secure a guillotine choke of his own early in the fight and earn the win.
ADVERTISEMENT
Article continues below this ad
In the post-fight chat with Joe Rogan, he called out the champion Deiveson Figueiredo.
UFC fans react to Brandon Royval's dominant grappling showcase
It is no easy task to secure a choke, especially from the bottom after getting dropped. However, it did not seem to faze 'Raw Dawg' as the flyweight contender dealt with adversity in style. Naturally, fans and fellow fighters also loved the elite grappling display as they took to Twitter to shower words of praise.
Guillotine chokes, man. They will fucking get ya.

— Tommy Toe Hold (@TommyToeHold) May 8, 2022
Not even half a round, Royval's finished it before anyone could make their predictions. Now that is a serious threat for anyone to deal with in the flyweight division.
Everything I expected and somehow didn't even go half a round

— caposa (@Grabaka_Hitman) May 8, 2022
Surging welterweight content and fellow wrestling aficionado, Belal 'The Bully' Muhammad liked what he saw. Dubbing the grappling exchange as 'pure chaos', it seems like 'The Bully' loved the fight.
Wooow royval is pure chaos

— Belal Muhammad (@bullyb170) May 8, 2022
This flyweight matchup served as one of the marquee fights that UFC President Dana White highlighted in his educational 'If you don't know, now you know' segment. White only had a few words to say as the bout definitely lived up to his expectation.
That was a slick sick performance that will be hard to beat for the following fighters. Making your opponent tap is one thing, but reversing the same submission attempt is just whole another ball game.
Wow. That was very slick from Royval.

— Ariel Helwani (@arielhelwani) May 8, 2022
Watch this story: Tony Ferguson's Most Insane Training Methods Will Leave you Confused
'Funkmaster' believes he felt the choke long before and knows how powerful Royval truly is. The bantamweight kingpin Aljamain Sterling has definitely given his seal of approval to this fascinating performance.
That was fun for as long as it lasted! I've felt that guillotine from Rovyal before! #UFC274

— Aljamain Sterling (@funkmasterMMA) May 8, 2022
A grappling barn burner of the likes rarely seen before, Royval can pick up the world title in 2023.
Jesus, what a barnburner of a fight that lasted all of half a round. #UFC274

— Bloody Elbow (@BloodyElbow) May 8, 2022
ADVERTISEMENT
Article continues below this ad
It was fun indeed, and regardless of how long it lasted, Royval is a beast.
ADVERTISEMENT
Article continues below this ad
Who do you wish to see Royval face next? What did you make of his display at UFC 274? Leave your thoughts below.