"Bring Your Best Game"- Kamaru Usman Challenges Jorge Masvidal
Published 03/19/2021, 3:20 PM EDT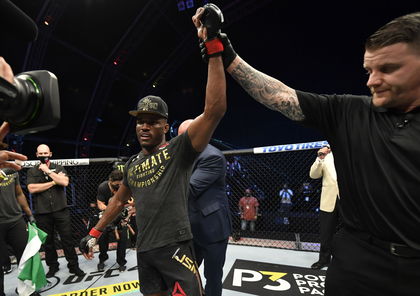 ---
---
Kamaru Usman, the Nigerian-born UFC Welterweight champion, is all set to butt heads with Jorge Masvidal at UFC 261 in April. As the fight inches closer, Usman broke it down in a recent interview to set the ball rolling.
ADVERTISEMENT
Article continues below this ad
Usman delivered a very strong message for his challenger, he said, "You said you wanted more than 6 days. Well, guess what now I have given you 6 weeks. You asked for 3, but I doubled it and I gave you 6. So April 24th this time there'll be no excuse.
"That's it. There'll be no excuse. Let's go. You know what? I am looking to do is to put the nail in the coffin. So you know, bring your best game".
ADVERTISEMENT
Article continues below this ad
The stakes, for both fighters, are through the roof on this one. On one hand, Usman goes into this fight with his legacy and belt hanging in the balance.
However, Gamebred is looking for much more than glory; he's looking for redemption for his loss at UFC 251. Jorge Masvidal took the fight on short notice in 6 days and fought Usman for 5 rounds.
The fight, however, was controlled by 'The Nigerian Nightmare' and in the end, it was a very comfortable win for the champ. Just after the fight, 'Gamebred' demanded a rematch as he felt he was not fully prepared for the fight.
Having convinced his fans that he could best the Welterweight king given time and preparation, a win in this fight is more about respect than it is about anything else.
Kamaru Usman thinks he is about to lap everyone in the Welterweight division
A champion unlike any other, 'The Nigerian Nightmare' has already defended his title 3 times and is on a 13 fight win streak.
Kamaru also said, "I've cleared the division off now. It's time to lap everybody you know it's like running. We are running a race and now I am about to lap everyone so I went in I told Dana, 'Hey Dana, give me him. Give me him you know he is a tough guy.'
"I know he is a tough guy yeah it's risky, it's dangerous, but guess what I want to put that nail in the coffin once and for all and that's how this fight got made."
ADVERTISEMENT
Article continues below this ad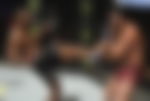 Finally, 11 months from their last fight, they are set to meet again in a massive rematch. This time Masvidal has all the time he needs to prepare for it. Fans are exuberant at the prospect of watching Jorge Masvidal earn his name.
Masvidal also has the 'BMF' belt, which he won by fighting Nate Diaz. More belts attract more fans. It is certain that fans are expecting a competitive rematch. Will Masvidal shock the world or will it be the final nail in the coffin for him?
ADVERTISEMENT
Article continues below this ad