Bruce Buffer Explains About 'The Pesky Little Sucker'
Published 04/01/2021, 2:02 PM EDT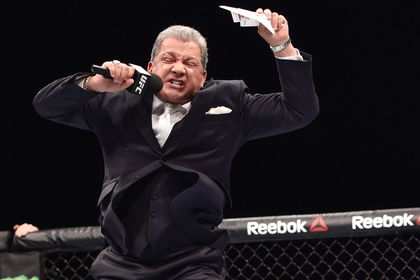 ---
---
UFC broadcasted its first event on the ABC network back when Max Holloway faced Calvin Kattar. It was a historic day for the company as ABC has broadcasted great boxing matches like Joe Frazier vs Bob Foster, Muhammad Ali vs George Chuvalo, and many more. Just as the network was all set to broadcast UFC on its network, something happened.
ADVERTISEMENT
Article continues below this ad
As the UFC began with the preliminary card, which was not broadcast on ABC, Bruce Buffer began with his iconic introduction of the fight. Just as he started with "ladies and gentlemen we are…" he stopped mid-sentence as a fly attacked him.
He quickly shook it off his cheeks and was able to pick his lines up, as if nothing had happened. The incident was quickly over, but everybody noticed it on ESPN+. Everyone enjoyed the moment and made fun of the situation.
ADVERTISEMENT
Article continues below this ad
We know Bruce Buffer as the 'Veteran Voice of the Octagon' as his style of announcing is unlike any other in the world. Buffer puts in a lot of energy and leaves the audience with a spine-chilling, electrifying experience.
Buffer is very proud of his job and lives every moment. In a video about Buffer and the fly incident posted by the UFC, Bruce Buffer describes it saying, "It was just an ordinary fight night like any other every time. I walk in the octagon to me it's my very first night and I take great pride standing on that octagon floor and then it happed.
"That fly was a pesky little sucker. I have to prove to myself to the fans and especially to the great warriors. That I'm announcing that I deserve to be in this octagon and share with them."
Bruce Buffer has a history of insect attacks
Bruce Buffer has had to deal with such bug attacks previously too. Talking about something similar that had happened in Brazil Bruce said, "It was actually in Brazil a bug actually flew into my mouth one time."
Even after all those attacks, the UFC ring announcer remains fearless and is ready to exact his revenge. He had nothing nice to say about the fly and is ready to take it on.
"The show must go on. I gotta do what I gotta do. I am gonna hit that sucker quicker, that's all I can tell ya. Well now, I guess I'm the official Flyweight champion of the fly island."
ADVERTISEMENT
Article continues below this ad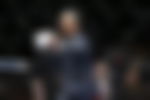 Clearly, the 63-year-old has nothing nice to say about flies.
Do you think the flies will strike back even harder next time, or will they accept Bruce Buffer as their champion and stay away from him?
ADVERTISEMENT
Article continues below this ad