Calvin Kattar Accepts He Enjoys Being Overlooked Ahead of Fight With Max Holloway
Published 01/10/2021, 4:07 PM EST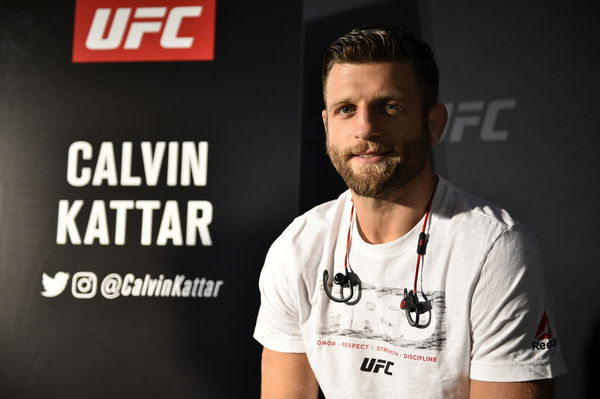 ---
---
Calvin Kattar has been one of those fighters who has entered 2021 with hopes of a title shot. 'The Boston Finisher' was 2-0 in 2020 with impressive wins over Dan Ige and Jeremy Stephens. Despite his convincing performances, not everyone is highly sold on Kattar. However, as he gears up to fight Max Holloway, 'The Boston Finisher' says he enjoys not being in the limelight.
ADVERTISEMENT
Article continues below this ad
Ranked number 6 in a division full of exciting fighters, Kattar has the biggest fight of his life in front of him. His next opponent is not just a former champ but also one of the best featherweights in the promotion's history. A win over him would skyrocket his stock so much that he'll enter straight into the title picture.
ADVERTISEMENT
Article continues below this ad
Despite the fight drawing closer, there is still a lot of talk about Holloway's last fight. However, the fighter from New England Cartel has clarified that overlooking him could cost Holloway heavily.
"He (Holloway) seems to be talking a lot about the champ. I think to overlook me going into the fight would be a big mistake. I'm always looking for chips on my shoulder. I'm constantly being overlooked and constantly being carried out. I enjoy that role," Kattar said while talking to ESPN.
Calvin Kattar can fight for the belt in 2021 in the best-case scenario
The reason the narrative is still stuck to Holloway's last fight is because of the nature of the decision. The Hawaiian lost the chance to regain his belt against Alexander Volkanovski due to a split decision loss. Despite the judges scoring the fight in favor of the incumbent champ, a large section of the people that watched the fight thought Holloway did enough to regain the belt.
Even though the decision didn't go his way, Holloway has remained humble in the face of defeat. A role model in the sport, 'Blessed' has always been the one to let his performances do the talking. His opponent, Kattar, is also made from the same mold. Hence, if you were expecting a bit of a verbal back-and-forth ahead of the fight, you'll end up being disappointed.
ADVERTISEMENT
Article continues below this ad
"I don't talk as much s**t as some of these other guys. For me, that works. I don't think I need to give them any of that locker room material. Like Bill Belichick says, we go in there. Credit to my opponent, he's a tough fighter, but a win over him puts me next in line," Kattar added.
Despite the past two fights not going in his favor, Holloway remains one of the best fighters on the UFC roster. Therefore, he presents as big of a challenge for Kattar as he could've had apart from a title fight.
ADVERTISEMENT
Article continues below this ad