Chael Sonnen Agrees with Dana White's Notion that Conor McGregor Overlooked Dustin Poirier at UFC 257
Published 03/14/2021, 11:58 PM EDT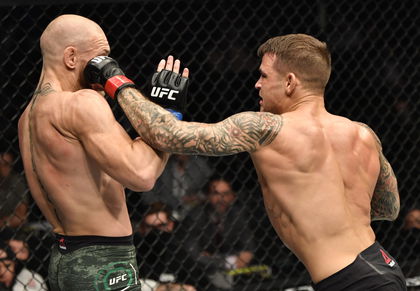 ---
---
The former fighter turned MMA pundit, Chael Sonnen spoke out on his show and went in on UFC 257's main event. Conor McGregor made his return to action against Dustin Poirier after around a year of inactivity. 'The Notorious' was welcomed back with a rude turn-in as he was TKO'ed for the first time in his MMA career.
ADVERTISEMENT
Article continues below this ad
Dustin Poirier executed the perfect game plan that saw him break down McGregor's wide karate stance. 'The Diamond' chopped down at McGregor's calf with brutal kicks that eventually immobilized the Irishman. Subsequently, Poirier landed well-placed blows to Conor McGregor's dome that sent the former double champion slumping over the canvas.
ADVERTISEMENT
Article continues below this ad
Chael Sonnen opens up on the notion that Conor McGregor overlooked Dustin Poirier
'The American Gangster' remained quite measured in his expansion of UFC 257's main event that saw McGregor's downfall. He agreed with Dana White's claim about McGregor overlooking Poirier and expanded upon it further. Chiefly, he let it be known that prior experience had an effect on the Irishman's subconscious.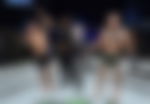 "Dana said that Conor overlooked Poirier in their second fight, that is the truth, that's just what happened. How would you not, how would that not happen? Put yourself in Conor's shoes, how would that not happen?… When you've never worked out with a guy, never sparred a guy and you've never fought a guy which would be representative of almost every match that you've ever had…and then you juxtapose that with a former opponent who you had no resistance from."
"You're just going to remember that. I don't know how a human being would not. To have a level of expectation of what you're about to get into when it's something you've already done, and you had no resistance the first time. Yes, Conor overlooked Poirier."
Will the trilogy fight between Poirier vs McGregor look any different?
Sonnen didn't really blame Conor for looking at things that way. He emphasized the inevitability of overlooking someone you already beat. The first fight wasn't even close, and 'The Notorious' sent Dustin Poirier packing in a matter of minutes.
ADVERTISEMENT
Article continues below this ad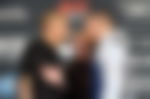 Sonnen said that Conor would probably vehemently deny White's claims that he had overlooked Poirier during their rematch. He would look at his preparation and be satisfied that he gave his 100% in the gym training. However, it's the mental edge that he likely came in with that ended up costing him dearly.
There's certainly some underlying truth to Chael Sonnen's claim, and the fight was a reflection of that. The rubber match that is set for the summer can expect to see a much more measured approach from both men. They have both seen what the other is capable of, and there will be a sense of caution.
ADVERTISEMENT
Article continues below this ad