'Come Up to 170 and Face Daddy' – Colby Covington Challenges Dustin Poirier to Face Him in the Octagon
Published 07/17/2021, 12:30 PM EDT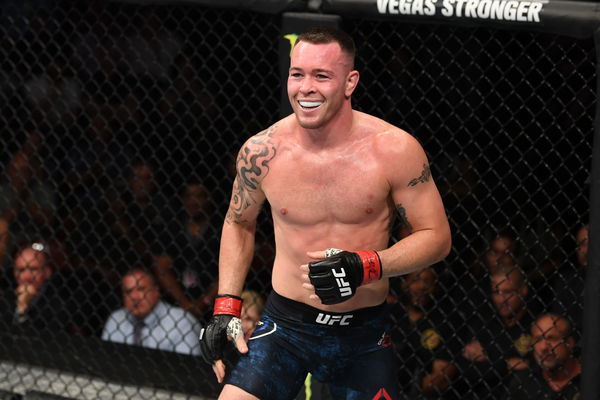 ---
---
Dustin Poirier faced Conor McGregor in one of the biggest MMA events of the year. The pair faced each other at the UFC 264 event and Poirier won the fight via a first-round TKO. With this victory, Poirier settled the score with McGregor, winning the trilogy 2-1.
ADVERTISEMENT
Article continues below this ad
Even before the fight between 'Notorious' and Poirier took place. The UFC had announced that the winner will most probably face Charles Oliveira for the title. Therefore, Poirier is now set to challenge Oliveira for the UFC lightweight title in the near future.
While Poirier will be concentrating on a fight with Oliveira, many fighters have called out 'The Diamond' following his victory. Even McGregor called out Poirier for a 4th fight as it did not satisfy him with how the 3rd fight ended. Now Poirier's former teammate and welterweight contender Colby Covington has also called him out.
ADVERTISEMENT
Article continues below this ad
During a recent interview, 'Chaos' talked about how a fight with him is more beneficial for Poirier than fighting Oliviera. He said, "
"You know James; you know if he did it would be a bigger money opportunity for him to do that than to fight that guy. Because the guy he's got to fight, he doesn't have a draw in America."
Watch This Story: Top finishes from UFC Vegas 31 fighters
"Nobody really even knows who he is in Brazil. He's just not a draw, he's not gonna sell PPVs. So his money opportunity, if he wants to do got business, is to come up to 170 and see daddy."
Colby Covington says the rivalry with Dustin Poirier is personal
Covington and Poirier were teammates at one point in time, and 'Chaos' believes that he has personal issues to settle with the fighter.
He said, "This is a personal rivalry, James, this isn't like I'm trying to pick on someone, and there's no narrative to the fight. Man this guy, we go back 10 years training together, and he said some things to me in the gym, I said some things to him."
Covington even went one step further and took shots at Poirier's family. He said, "There's a deep, deep personal issue with this drama and this beef, and I just hope they get settled in the Octagon someday. But if they don't, then the fans get to know who daddy is. And they get to know that I am really Parker's daddy, it's not Dustin who's Parker's daddy, I'm Parker's daddy and I'm Jolie's husband."
ADVERTISEMENT
Article continues below this ad
While for now, Poirier is set to challenge Oliviera for the UFC lightweight title. Covington on the other hand will most probably face Kamaru Usman for the welterweight title. Therefore, a fight between the two fighters looks highly unlikely to happen anytime soon.
However, if these two talented fighters ever face each other in the Octagon, the fight will surely be a spectacle to watch.
ADVERTISEMENT
Article continues below this ad