Conor McGregor Gives Disappointing Update Regarding Khabib Nurmagomedov Rematch
Published 01/21/2021, 4:02 PM EST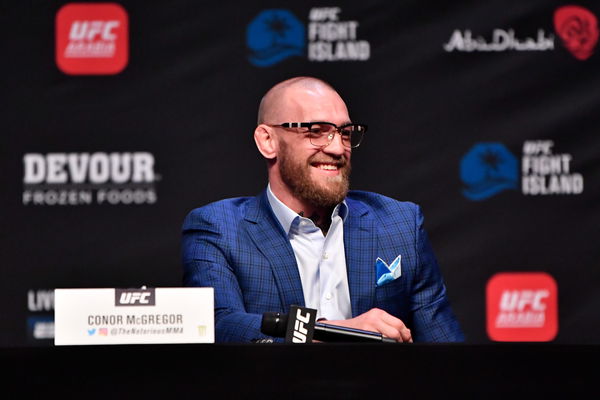 ---
---
Even though Conor McGregor will face Dustin Poirier this weekend, the fight isn't actually taking place in a vacuum. Following Dana White's announcement last week that a head-turning performance from either lightweight could end Khabib's retirement, fans are counting on McGregor to do just that. However, McGregor doesn't seem to be particularly pushing towards a rematch with the champ. In fact, he seems least bothered by it right now.
ADVERTISEMENT
Article continues below this ad
McGregor, along with the other three lightweights who complete this weekend's main and co-main event, took center stage at the press conference. The Irishman was a much more quiet version of himself as compared to the past. There was a sense of respect in the air between him and Dustin Poirier.
ADVERTISEMENT
Article continues below this ad
When the question came up regarding the incumbent champ Khabib Nurmagomedov, the Irishman kept his stance clear. He is not against the idea of a rematch, but it isn't something that he plans on pursuing.
"Let's just get through the fight. All these men are up here, there's plenty of challenges. It's a tough business. Things have gone on in his personal life, I don't wish him any harm. Like I said, it was in 2018, a lot of time has passed," McGregor said.
Conor McGregor says 'war is not over' with Khabib Nurmagomedov
McGregor and Nurmagomedov were at the two ends of one of the most heated rivalries the promotion has ever seen. McGregor would become the first of three title defenses of the lightweight kingpin. As far as his own career is concerned, he has only fought once since then, defeating Donald Cerrone at lightweight.
McGregor's plans to take over the 155-pound division coincide with the retirement of his arch-rival. The Irishman knows that Nurmagomedov's decision to step away from the game was motivated a lot by what transpired in his personal life. Therefore, he has decided not to pay much heed to what Nurmagomedov does. Regardless, he still asserts that the rivalry between them is far from settled.
ADVERTISEMENT
Article continues below this ad
"The world knows this fight is not over. This war is not over. The sport needs it to happen. The people need it to happen. I'm not going to chase it if he doesn't want it. That's it. I'll keep my calm and move on. That's what I'm doing. I'm back here at the 155-pound division. I'll show the world what's what over time, and that's it. It begins on Saturday night against Dustin Poirier," McGregor said.
Despite not calling out the champion, McGregor demanded that the latter should be stripped of the title if he has truly stepped away from the game. Even Nurmagomedov wouldn't want to keep the division in limbo if fighting is not a part of his future plans.
ADVERTISEMENT
Article continues below this ad