Conor McGregor Tops the List of Fastest Title Fight Finishes in UFC History
Published 01/22/2021, 4:08 PM EST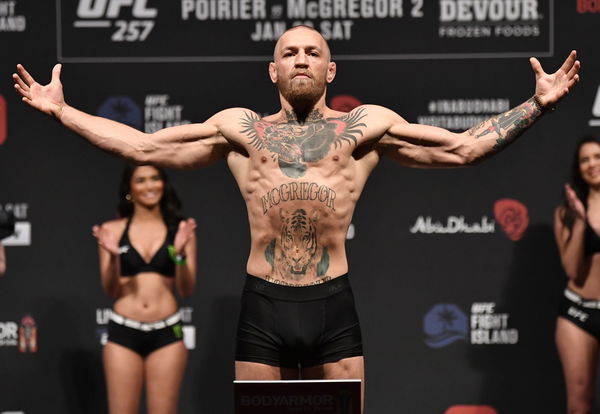 ---
---
In less than a day, UFC 257 will be underway and the fans will have a chance to witness the sport's biggest star in action. Conor McGregor has made a name for himself, not just by his outspoken personality, but by his scintillating performances as well. 'The Notorious One' holds many such records, one of which he created on the night he defeated Jose Aldo.
ADVERTISEMENT
Article continues below this ad
The Irishman has a penchant for bringing out his best when the lights shine the brightest upon him, which happens more often than not. At UFC 194, McGregor went against the long time featherweight champion, Jose Aldo. In a performance that would propel him to legendary status, McGregor slept the erstwhile champion in a matter of thirteen seconds.
ADVERTISEMENT
Article continues below this ad
The win seems even more impressive in hindsight when you consider that prior to the contest, Aldo hadn't lost a fight in the past eight years. The win still stands as the fastest win in a UFC title fight.
Ronda Rousey seconds Conor McGregor in the list
The second entry on the list is another former icon in the sport of MMA. At a time when women's MMA was slowly establishing its foothold, Ronda Rousey was the one who led the charge. Her performance against Cat Zingano at UFC 184 was one of the biggest reasons that fans considered her almost unbeatable in the sport.
Rousey only needed fourteen seconds to take care of her competition. However, what's more impressive is that she did it not via a knockout, but by submission. As soon as both the fighters met in the center of the Octagon, Rousey tripped her opponent and scrambled her way to an armbar, forcing Zingano to tap out.
ADVERTISEMENT
Article continues below this ad
Sitting at the third spot on the list is former UFC champion, Andrei Arlovski's fifteen seconds demolition of Paul Buentello at UFC 55. The right hand of 'Pitbull' landed so accurately that his opponent was out even before he hit the deck.
Rousey has more than one appearance on the list owing to her sixteen-second win over Alexis Davis. Contrary to the first one, she displayed her striking prowess in the record-breaking performance.
ADVERTISEMENT
Article continues below this ad