Conspiracy Theories Against UFC Brought Up by Fighters With Scale Botch-Up Blamed for Charles Oliveira's Severe Punishment
Published 05/07/2022, 2:00 PM EDT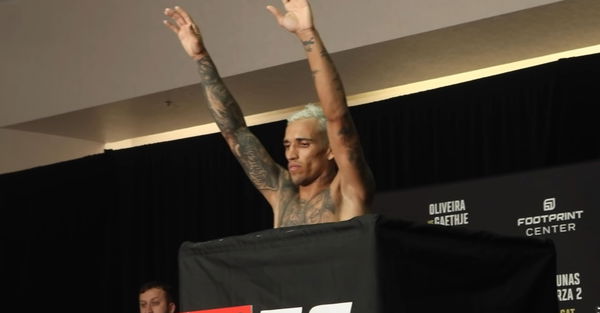 Over the course of 12 hours, everything has taken an unexpected turn for Charles "Do Bronx" Oliveira. The lightweight champion, unfortunately, failed to match the 155 lbs weight. As per the rules and regulations, the Brazilian will forfeit the title and won't be eligible to win it back this weekend. This sudden shift has granted the challenger, Justin 'The Highlight' Gaethje, a golden opportunity to fulfill his lifelong dream.
ADVERTISEMENT
Article continues below this ad
With the vacant title still up for grab solely for the challenger, Gaethje, a rather strange rumor is making rounds on Twitter. A certain portion of the MMA community believes there is more to this drama than it meets the eyes.
ADVERTISEMENT
Article continues below this ad
Some fighters even made claims that the official weigh-in malfunctioned, and it threw many fighters off.
Did Charles Oliveira lose his title due to a faulty weigh-in machine?
Rumors have it that the weigh-in scale carried extra weight, which may have played a role in this case. Fellow fighter on the card, Ariane "Sorriso" Carnelossi backed these rumors by narrating her own incident. She claimed that the official weigh-in device indeed impacted her as well, but luckily she made the weight limit by being well under 115 lbs.
Congrats to the "genius" that messed with the fighter's scale leaving it with a 0.5lb difference. We only found out when we were informed as we were coming down to check our official Weight. Luckly I was under so that didnt hurt me.

— Ariane "Sorriso" Carnelossi (@ArianeSorrisoo) May 6, 2022
MMA Journalist. Guilherme Cruz suggested that a couple of fighters reached out to him and made similar claims. He stated that the device used at the hotel was reset overnight and it offered false information. The difference in the weight reportedly ranged from 0.5 to 2lbs which could have played into it.
UFC women's flyweight contender, Casey O' Neill, also made similar claims stating that the two scales never align.
Often out the back my weight on the digital scale is different than the official scale, usually I'm 0.5 or so of a difference between the two. You gotta feel for Charles here

— Casey Oneill (@kingcaseymma) May 6, 2022
Oliveria's former opponent, Dustin Poirier, also chimed in calling the whole incident,' crazy'. 
Watch this story: UFC 274 Date, Time, Venue, Tickets, and Livestream
Justin Gaethje doesn't believe in the rumors
ADVERTISEMENT
Article continues below this ad
However, Justin Gaethje doesn't feel the same as his fellow UFC fighters. The Higlight'  believes the scales were working properly as both men used the same device. He even offered another line of reasoning to debunk this rumor, suggesting that 3 out of 4 championship fighters made weight.
3/4 made championship weight. Cut the BS.

— Justin Gaethje 🇺🇸 (@Justin_Gaethje) May 6, 2022
ADVERTISEMENT
Article continues below this ad
It is uncertain what actually transpired during the weigh-in, but the fate of the lightweight title hangs in the balance. If Gaethje fails to capitalize on this opportunity, then Oliveira will get a chance to reclaim UFC gold.
Share your thoughts below.