Cory Sandhagen Eyes a Title Shot- Names His Ideal Pick Between Petr Yan vs Aljamain Sterling
Published 02/28/2021, 11:39 PM EST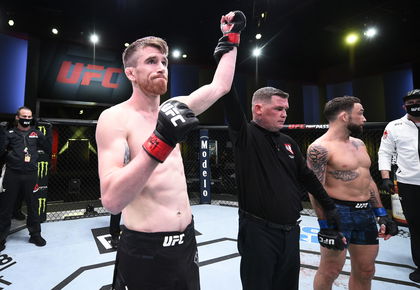 ---
---
UFC bantamweight contender Cory Sandhagen spoke to UFC.com and gave an overview of his position as the top-ranked contender. 'The Sandman' is coming off the biggest win of his career against Frankie Edgar from early into February. The 'KO of the Year' candidate came in under 30 seconds as Sandhagen fired a flying knee that put out the durable Edgar.
ADVERTISEMENT
Article continues below this ad
Additionally, the aforementioned performance came off the back of a sensational spinning wheel kick TKO of Marlon Moraes. With two back-to-back stoppage wins under his belt, Sandhagen managed to erase his UFC 250 loss to Aljamain Sterling. The defeat was a huge disappointment as Sandhagen lost his opportunity to fight for gold against Petr Yan.
ADVERTISEMENT
Article continues below this ad
Cory Sandhagen looks ahead at what's next
The Team Elevation standout was clear that a shot at bantamweight glory is what made sense going forward. However, he seemed determined to not rest on the power of his recent wins too much. It doesn't seem to matter who steps in front of 'The Sandman', it's a championship or bust going forward.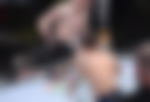 "I think the title shot is definitely option A. But at the same time, I'm not the guy that will dilly dally or act like I'm super deserving. Do I think I deserve it? Yeah, but I'm going to get to that world championship eventually," said Sandhagen. "I want to get to the belt by earning it, I don't want to be a smack talker. Don't want to pick and choose fights. I want to take the fight regardless of who the opponent is and that's how I earn the belt."
'The Sandman' breaks down his pick UFC 259 bantamweight title fight
UFC 259 coming up this weekend will see Petr Yan vs Aljamain Sterling for Yan's 135-pound strap. While knowing his own position in the division, Sandhagen went on to dissect both men who will be fighting for the belt. Not to mention, he also gave his pick for who would make for a better opponent when he gets his title shot eventually.
ADVERTISEMENT
Article continues below this ad
"I don't have an opinion about who wins but I imagine that as I watch, it will be a little bit more personal. It will almost be like I'm there," said Sandhagen. "I'll be very curious to what they will say afterward. Petr and Aljamain are different in a couple ways."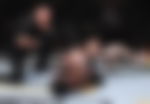 "Both guys would be super tasty wins, but with Aljo, and our history, embarrassing me like that, I have a fire way, way down inside that needs to get that one back at some point," said Sandhagen. "I would really like to show that guy isn't better than me. That would be a really big thing for me to prove to myself and prove to everyone else that I'm better. That would be the main course and the dessert."
ADVERTISEMENT
Article continues below this ad
Considering Cory Sandhagen's blowout loss to Sterling, it's easy to see why he'd want to run things back. However, 'No Mercy' Yan possesses certain tools that are stylistically difficult to combat for both Sterling and Sandhagen. UFC 259 will certainly be a defining match-up for the bantamweight division, and Sandhagen will most certainly be watching.