Cory Sandhagen Says TJ Dillashaw Was Taking Some of the Most Serious Steroids in the Sport
Published 02/10/2021, 1:54 PM EST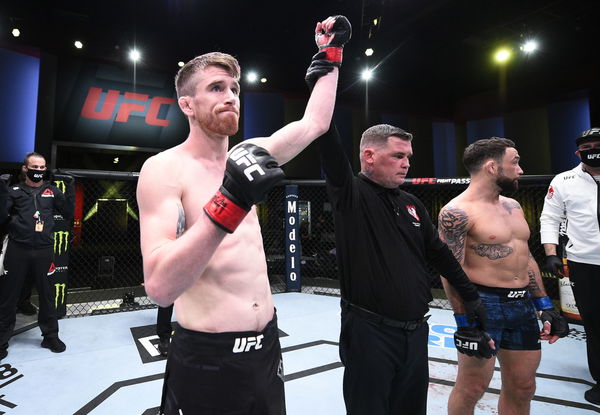 ---
---
Fresh off a spectacular flying knee knockout, Cory Sandhagen is as confident as he's ever been in his UFC career. Although he seems to be the frontrunner to be the next title challenger, Sandhagen fears T.J. Dillashaw may jump the line. Talking about Dillashaw's trouble with USADA, 'Sandman' has claimed that the former champion was doing one of the most serious steroids in the sport.
ADVERTISEMENT
Article continues below this ad
Talking to ESPN MMA, Sandhagen told the fans that he would've preferred a fight against Dillashaw over Edgar. However, he thinks Dillashaw didn't show up as the former 135-pound champ is looking for an easy shot to the title.
ADVERTISEMENT
Article continues below this ad
"If you look at his social media, it's all road to recovery stuff, the comeback blah blah blah. The guy was supposed to be back in January. The time would've been perfect for us to fight and he didn't. I don't know what that's about. I don't think he wants to fight. I'm worried T.J. is going to fight for the belt before me and still not want the fight and me being stuck in this limbo thing," Sandhagen said.
Dillashaw relinquished his title back in 2019 after the USADA and NSAC found adverse findings from his fight against Henry Cejudo. The 35-year-old would hence receive a two-year ban retroactive to January 2019. Thus he became eligible to be back in the UFC this past month.
Cory Sandhagen believes TJ Dillashaw shouldn't be in the title conversation
Sandhagen has made a quick turnaround since losing to Aljamain Sterling via a first-round submission last year. He amassed back-to-back title highlight reel knockouts over major names such as Marlon Moraes and Frankie Edgar. However, as the title fight in the division is already a lock between Aljamain Sterling and Petr Yan, Sandhagen would have to wait for a while before he fights for the title.
This is where the Dillashaw fight comes in. Returning from a two-year ban, Dillashaw will have to prove himself against a division whose landscape has changed while he was away. Add to that the extra layer of Dillashaw and Sandhagen being former training partners, you get the recipe for a fight that the fans would love to see.
"T.J. is just a bigger name, and maybe he gets to call the shots a little more. That's what I'm worried about."
ADVERTISEMENT
Article continues below this ad
"I do well against T.J. in the gym when we used to train together. That's another reason he doesn't wanna take the fight."
"I don't even think T.J. should be in a conversation right now, especially off of his history. He was doing some of the most serious steroids you can do in the sport. He was giving himself an unfair advantage, which is disrespectful to everyone in the division and the sport. I don't wanna see him, come back and just get a title shot," Dillashaw said.
Given Sandhagen's recent exploits, not many would disagree that he deserves a fight against Dillashaw. The rest lies with the UFC matchmakers and how they would book these key players in the division.
ADVERTISEMENT
Article continues below this ad