'Count it Up'- Max Holloway Reveals His Conversation with UFC Commentators During His Fight with Calvin Kattar
Published 02/24/2021, 9:30 AM EST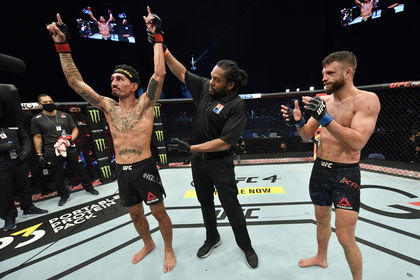 ---
---
Former UFC featherweight champion, Max Holloway, broke a plethora of records in his one-sided beat down of Calvin Kattar in the UFC's first show of 2021. Holloway put on his patented pace on Kattar, who found it difficult to keep up with the intensity on offer.
ADVERTISEMENT
Article continues below this ad
The former champion racked up incredible significant strike numbers throughout the fight and gave the UFC the showing they hoped for on their network television debut. However, to Kattar's credit, he stayed in the contest and attempted to return fire at each possible opportunity.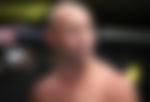 ADVERTISEMENT
Article continues below this ad
The former champion who is as decorated as they come in the UFC is also quite the showman. 'Blessed' began talking to the commentary team as the fight moved closer to the broadcasting bench. He revealed what he said in his chat with Ariel Helwani on ESPN MMA.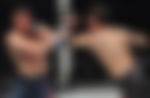 "Yeah, for sure, we was talking, and actually when we moved to that side of the cage and I heard them talking, about something about my strikes landing or something. I think so Dan Hardy that I heard talking about my significant strikes landing or I'm landing at a rate and that's when I said, I turned around and the first thing I said was 'Count it up'…The first thing I ever yelled was 'count it up' and I kept punching."
'Blessed' Max Holloway: Showman personified
Max Holloway hilariously explained that the moment he goaded on Kattar, he was hit with a hard shot. The Boston native was game to trade heavy shots all night and certainly engaged his opponent to his best capacity. Furthermore, he also described his feelings of invincibility when trading blows with The New England Cartel standout in 'The Boston Finisher'.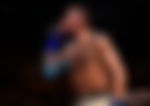 "I said 'Count it up' and then he [Kattar] jabbed me and then I looked at him and that's when I screamed at him and that's when I did whatever I did. It was good fun man."
ADVERTISEMENT
Article continues below this ad
"The zone I was in, I was having the time of my life. I was just enjoying, I felt like when you have a really great cupcake I guess and when you take that first bite and just like fireworks and all kinds of stuff is going off in your head. That's how it felt, man.
Holloway claimed he could have done anything, including a Karate kid crane kick. He believed it would have landed because he felt absolutely untouchable at the Etihad Arena.
What did you make of Holloway's showing and flamboyance against Kattar?
ADVERTISEMENT
Article continues below this ad