Curtis Blaydes Opens Up About the Controversial Interim Title Fight Booking Between Derrick Lewis and Ciryl Gane
Published 07/01/2021, 11:43 PM EDT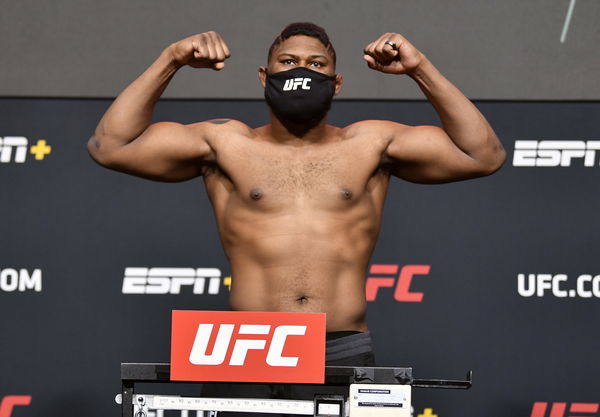 UFC heavyweight Curtis Blaydes spoke to James Lynch from LowKick MMA and shared his views on a massive heavyweight booking. Earlier in the week, it was announced that Derrick Lewis and Ciryl Gane would fight for an interim heavyweight title. The decision to put up an interim title so soon after Francis Ngannou won his belt has definitely been controversial.
'Razor' Blaydes shared his thoughts on the match-up and also gave his prediction for the fight. As Blaydes' last fight was against Derrick Lewis, he has an interesting perspective on 'The Black Beast' as a contender. Blaydes posited that the decision to have an interim title came about after Ngannou and the UFC could strike up a deal.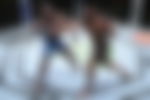 "My initial reaction was the negotiations between Francis and the UFC. It must've turned bad or some point and this is like Plan B. My guess is if Derrick wins, they're going to force that rematch. If Ciryl wins, I don't know exactly but personally; I believe Derrick is going to win. I think they're going to get the rematch."
ADVERTISEMENT
Article continues below this ad
"He [Derrick] has a unique skill set. He's able to just absorb these shots and like it frustrates. I know it frustrates me. I was landing a lot of good shots and that's why the takedown attempt that I did in the second round, the one he caught me with the uppercut with. It was a bit of a rush job. I felt like my strikes weren't doing enough, but going back and watching the film, I was wrong."
Was an interim heavyweight title warranted?
The MMA community has been divided over whether they really needed an interim title to be put on the line. Many believe that as UFC 265 lacked star power, an interim title was brought into the fold.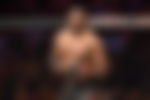 Additionally, the consensus is that the importance of an interim title gets watered down if it's brought into play unnecessarily. Ngannou's stake as the undisputed king is also somewhat undermined in the process.
ADVERTISEMENT
Article continues below this ad
Ngannou has said that a September return is feasible, however, the UFC couldn't wait a month in order to set up the scales differently. The aforementioned situation has definitely given some fans pause going forward.
ADVERTISEMENT
Article continues below this ad
Watch this story: Five Unknown Facts About the MMA GOAT Curtis Blaydes
What's your take on the interim heavyweight title situation?