Dan Ige Admits Khabib Nurmagomedov Wrestled Him on the Roads of Vegas
Published 03/23/2021, 2:05 PM EDT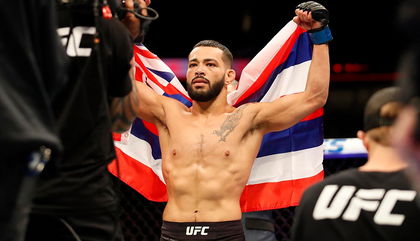 ---
---
Khabib Nurmagomedov is officially retired from the UFC. Nurmagomedov left the fight game as the #1 pound-for-pound fighter. He remains undefeated and arguably one of the greatest to ever step inside the Octagon.
ADVERTISEMENT
Article continues below this ad
Following his retirement, his friend, Dan Ige, got interviewed by Marc Raimondi from ESPN MMA. Raimondi asked Ige to recall any memories of Khabib Nurmagomedov from over the years that they have known each other.
Dan Ige recalled his very first encounter with the lightweight kingpin. "My very first encounter with him was in Vegas. We were at Panorama Towers and he spoke a little bit english but I just met him and he asked where I was from, I said Hawaii.
ADVERTISEMENT
Article continues below this ad
"Then he just grabs me in a single leg and he starts wrestling with me- we're on the concrete. When we're on the asphalt and we're wrestling and I was trying hard to get out but like the guy was just so strong and that was he wasn't really even like a big star or anything yet in the UFC but I just felt them I was like, 'Man, this guy's different for sure."
The Dagestani has his own way of greeting people and is not shy to showcase his wrestling skills in public.
'50 K' quickly realized that 'The Eagle' was different from anybody he had ever wrestled before. Ige felt his power and knew that Khabib Nurmagomedov was a star in the making. He was a 2-time Combat Sambo Champion before entering the UFC.
Dan Ige thinks he was fortunate to be around Khabib Nurmagomedov
We have heard Daniel Cormier say the same things about Nurmagomedov. Both Cormier and 'The Eagle' used to train together at American Kickboxing Academy. Like Dan Ige described, Cormier had also acknowledged the fact that 'The Eagle' is very strong. Cormier compared him with other fighters of his size and thinks he is levels above them.
As now Khabib Nurmagomedov is retired, Ige thinks he was very fortunate to be around 'The Eagle'. Ige was around him when he fought Conor McGregor in one of the biggest fights in the UFC.
There is a lot that happens behind the curtains before a fight, and Dan Ige has shared the camps with Nurmagomedov.
This would have helped him a lot as he was able to feel the championship intensity and could experience how the preparations are being done while sitting on the sidelines. An experience like this is priceless and can help fighters in the future when they go through a similar process themselves.
ADVERTISEMENT
Article continues below this ad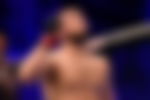 He believes Nurmagomedov is one of the humblest dudes around and has nothing bad to say about him. The Dagestani is surely a beast inside the octagon but looks like one of the nicest guys in real life.
What do you think about Khabib Nurmagomedov?
ADVERTISEMENT
Article continues below this ad