Dana White Reveals Why Conor McGregor Is Not Doing Media Appearances Ahead of UFC 264
Published 07/08/2021, 12:14 PM EDT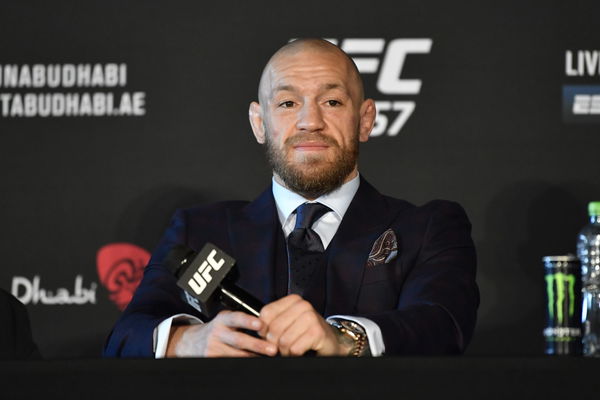 ---
---
In just a matter of days, Conor McGregor and Dustin Poirier will face each other at the UFC 264 main event. This event is being touted as the biggest MMA event of the year. The event will take place at the T-Mobile Arena where fans will return for the first time since March 2020.
ADVERTISEMENT
Article continues below this ad
There is so much anticipation regarding the event that they sold the UFC 264 event tickets out within minutes. Many fighters and critics have been constantly voicing their opinions about the event. However, despite this being such a big event, Conor McGregor has not appeared in many interviews till now.
During a recent interview, they asked Dana White about the same and whether he had talked to McGregor recently. He said, "No, I do not mess with these guys at all. There are some obligations they have that they have to do. If they don't do what they're obligated to do, we call and push to get them to do what they gotta do. But at the end of the day, this week there's so much riding on this fight."
ADVERTISEMENT
Article continues below this ad
Watch This Story: "He's a Corpse, a Dead Body" – Conor McGregor Predicts Dustin Poirier Will Leave the Octagon on Stretcher at UFC 264
Talking about why we haven't been hearing much from 'Notorious.' White said it was probably because McGregor is busy focusing on the fight.
White said, "And the silence, not hearing from Conor McGregor. It means he's probably very focused and dialed in for this fight."
Dana White believes Conor McGregor is ready to win
There has been much talk about whether McGregor still has the desire to win. Many believe that because 'Notorious' has earned so much money and doesn't need to fight, he will not give his 100% in the fight.
However Dana White believes that it is not true, and that McGregor is fully determined. He said, "There's so much at stake for this fight and I love that about it because the big question about Conor right now is, the guys got so much money, Is he the same Conor, is he focused? We know that this kid loves to fight; he doesn't need to fight right now, he's fighting because he loves it."
ADVERTISEMENT
Article continues below this ad
White also talked about how although he hasn't met him, he can still see the winning attitude in McGregor.
"I don't know, I haven't seen him yet. But you know from what I'm seeing from the outside. We got the serious, hardcore, ready-to-win Conor McGregor back. I don't know, I'm excited to see it like everybody else."
Dana White clearly believes that Conor McGregor is ready to win the fight. Do you agree with the UFC President? let us know in the comments below.
ADVERTISEMENT
Article continues below this ad