Demian Maia and His Title Fights Against Anderson Silva and Tyron Woodley
Published 06/12/2021, 2:39 PM EDT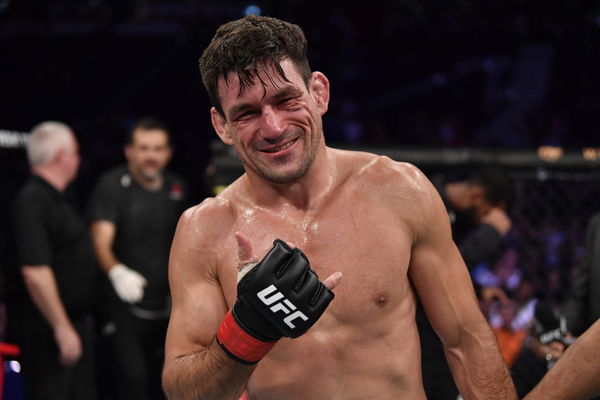 UFC legend Demian Maia is fighting Belal Muhammad at UFC 263. It'll be his first fight since March 2020, and he'll look to get back to winning ways. Maia lost his last fight against Gilbert Burns after he was knocked out in the first round of their fight.
ADVERTISEMENT
Article continues below this ad
However, he's fighting in a stacked card this time, and the 43-year-old looks like a fresh fighter. The Brazilian has had several legendary fights in his career. However, he still hasn't won a UFC belt, not for lack of trying. He fought Anderson Silva for the middleweight belt at UFC 112 but lost the fight.
Demian Maia vs. Anderson Silva: A mockery of a fight
ADVERTISEMENT
Article continues below this ad
This was one of the most controversial fights in the UFC. Maia was on a roll and was a scary opponent because of his Jiu-Jitsu and submission skills. However, Anderson Silva was widely renowned as the best fighter on the planet in 2010. He held the UFC middleweight belt and was coming off one of the best displays in the UFC after knocking Forest Griffin out in the first round.
That display was so dominant that Maia was one of the biggest underdogs in UFC history. However, the fight didn't go the way anyone expected it to. Instead, it was a highly controversial affair as Silva decided to showboat and not engage with Maia at all.
He kept insulting Maia's jiu-jitsu and repeatedly taunted him. The display was so bad that Silva had to beg for Maia's forgiveness after the fight. UFC president Dana White was absolutely incensed with Silva's performance and promised to cut him if he ever acted like that again.
However, Silva still won the fight via a unanimous decision, and Maia came up short. Nevertheless, he would get another chance to fight for the belt seven years later. Maia fought welterweight champion Tyron Woodley at UFC 214 in July 2017.
Watch this story: UFC Middleweight Champion Israel Adesanya's Journey To The MMA Pinnacle.
Tyron Woodley shuts down Maia's wrestling.
Maia's next title fight didn't fare any better as it was another boring spectacle. He was coming off of a seven-fight winning streak and was looking good. However, Woodley was the champion of the division, and rightfully so. The fight in itself was a dominant display from the champion.
ADVERTISEMENT
Article continues below this ad
He stuffed all of Maia's 21 takedown attempts, and the fight never got to the ground. Instead, he outstruck Maia and even got a knockdown in the second round. In the end, Woodley had 57 significant strikes to Maia's 28, and he cruised to the victory.
All three judges scored it for Woodley: 50-45, 49-46, and 49-46. It was as close as Maia ever got to the title, and even though he's a great fighter, he doesn't look like he'll win one ever again. Regardless, it'll be fin to see him walk out again.
ADVERTISEMENT
Article continues below this ad
Do you think Demian Maia can beat Belal Muhammad?