Despite Hitting the Last Nail on the Conor McGregor Rematch, José Aldo Continues the Rivalry With a USADA Accusation
Published 01/21/2023, 11:45 AM EST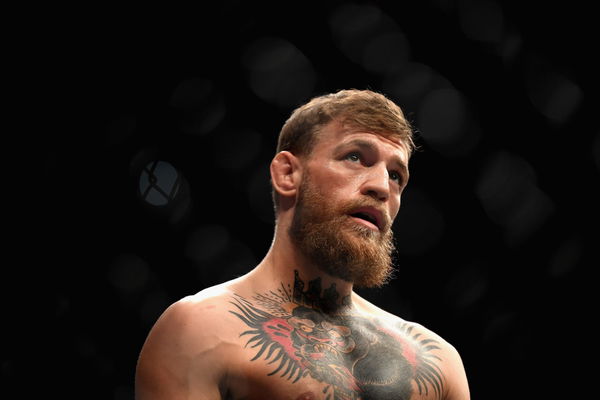 Anytime anything regarding the UFC is brought up, something always highlights Conor McGregor. He is the poster boy of the Ultimate Fighting Championship for a reason. Even though he hasn't been active in over 18 months, he is nonetheless monopolizing the news circuits and headlines all over. Recently, the top Brazilian UFC stars attended the UFC 283 Q&A, where José Aldo addressed the Irishman and made a rather caustic statement. The UFC superstar is expected to make his grand comeback this year, and speaking of which, the Brazilian lot was asked a question in that regard at the Q&A. The former longtime featherweight champion took this opportunity to fan the flames of the Conor McGregor-USADA fiasco. And undoubtedly had fun doing it.
José Aldo came in guns blazing
This Friday, big Brazilian names such as José Aldo, Alex Pereira, Rafael dos Anjos, Charles Oliveira, and Amanda Ribas graced the Q&A for the UFC 283. And during the session, a journalist popped up a big question about Conor McGregor's comeback. Upon putting up his thoughts on who should take on the Irishman next, Aldo canceled himself out beforehand, saying the curtains were closed for him for good.
ADVERTISEMENT
Article continues below this ad
The 36-year-old said (translated), "I think my time has passed, so like it said… He's all huge and stuff. USADA ain't knocking on his door." He also added that if anyone can take on 'The Notorious' right now, it'd be Charles Oliveira. Furthermore, in light of McGregor's recent transformation into a hefty fighter, Aldo thinks 170 would be the optimum weight class for that match-up.
Aldo continued, "He's (Conor McGregor) big, 185 lbs. And Charles with 155 lbs, up to 170 lbs, I think Charles can take him on." Although another go at José Aldo and Conor McGregor would've been interesting, too. But abandoned Aldo long ago in favor of that opportunity, long ago in a different pursuit. Not only in terms of size; McGregor getting big in terms of popularity caused José Aldo something he can never forget.
ADVERTISEMENT
Article continues below this ad
Conor McGregor snubbed José Aldo for the rematch
The 2015 featherweight title bout at UFC 194 between McGregor vs. Aldo still remains fan-favorite. That spectacular 13-second knockout by Conor McGregor stunned the UFC world and contributed significantly to his rise in fame. This gave 'The Notorious' a newfound pursuit and aim for something historical. And as a result, the chances for Aldo to get a rematch shrunk all the way to non-existence.
ADVERTISEMENT
Article continues below this ad
The Irishman then went on in the pursuit of becoming the first double champ in the UFC. Something he succeeded at, too. And ever since, their thought of McGregor vs. Aldo 2 became and remained a fantasy.
Watch this story: How Much Did Conor McGregor Earn In 2022?
Edited By: Vineet Nandwana