Did Joe Rogan Make a Huge Mistake by Interviewing Conor McGregor After His TKO Loss?
Published 07/14/2021, 12:41 PM EDT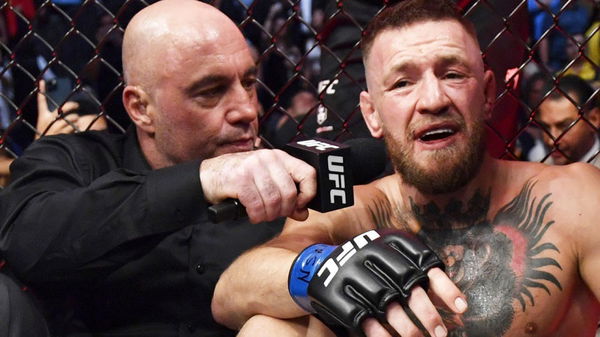 ---
---
Conor McGregor faced Dustin Poirier for the third time at the UFC 264 main event. The fight, which was touted to be one of the best of the night, lasted just one round as 'Notorious' injured his leg towards the end of the first round. Ultimately Poirier was determined the winner as they deemed McGregor unfit to continue.
ADVERTISEMENT
Article continues below this ad
After the fight ended, Joe Rogan interviewed an injured McGregor, who was sitting at the side of the ring. During that interview, McGregor took shots at Poirier's wife and family. This has led many fans to question whether Joe Rogan should have interviewed 'Notorious' at that time.
ADVERTISEMENT
Article continues below this ad
Recently former MMA fighter Chael Sonnen has spoken about the same. He said, "Should have Joe Rogan interviewed Conor McGregor after the fight? That's a topic that's going around. I got to tell you, I don't see that as a close call; I get both sides out of it. I'll lay them out to you in a minute. But yes, yes, he should have."
This was not the first UFC event in which they stopped a fight because of an injury. Therefore Sonnen drew parallels with a similar incident that happened with Stipe Miocic.
He said, "Other fighters who have been stopped have not been interviewed, a specific one that comes to my mind. The night Stipe lost his belt to Daniel, they did not interview him. They ushered him out; they brought in Lesnar and they moved on, that's fine. But shouldn't we have allowed Stipe to say what he wanted at that moment?"
Chael Sonnen believes Conor McGregor deserved to speak what he felt
The UFC 264 fight was one of the important fights of McGregor's illustrious career. Many believed that if the fighter lost the fight, he would retire from the sport permanently.
ADVERTISEMENT
Article continues below this ad
Therefore, Sonnen believes that after losing such an important fight, in such a way, McGregor deserved to speak his mind.
He said, "And I think the same thing goes for Conor in this situation. If you look at what he went through and all he wanted at that moment to make him feel a little bit better or to put some kind of sunshine in his life was to say a few words to the viewing audience. I think he gotta do it. I really do."
Watch This Story: Five Times Jermell Charlo Obliterated His Opponents
ADVERTISEMENT
Article continues below this ad
Do you agree with Chael Sonnen's analysis of the situation? Let us know in the comments below.