"Don't Discredit Michael Bisping" – Khabib Nurmagomedov's Manager Trolled Amidst Floyd Mayweather Insinuation
Published 05/10/2022, 9:15 AM EDT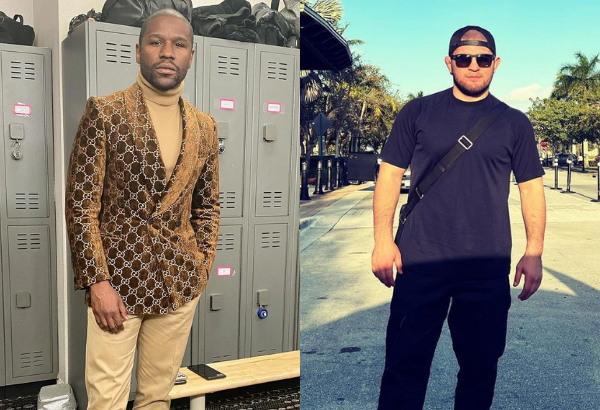 It is not an easy task to go up in weight class and expect to dominate the weight class. Fighters have to give up size, weight, and power advantage & face serious adversity. Not many can make such jumps and continue to maintain a flawless record, and hence, it is why Ali Abdelaziz, manager of Khabib Nurmagomedov, backs Floyd Mayweather.
ADVERTISEMENT
Article continues below this ad
He took to Twitter to share a special post dedicated to the unbeaten professional boxer. Much like Nurmagomedov in MMA, even Mayweather has never tasted defeat in his own sport. With 20+ years in the fight game and over 50 victories, he is still sitting at the top as arguably the greatest boxer to ever step into the ring.
ADVERTISEMENT
Article continues below this ad
Abdelaziz also stated that Mayweather is indeed 'count for pound king' best boxer in the world. He also highlighted that Mayweather wasn't just a multi-weight class champion, but also decimated 16 consecutive world champions in a row.
This post seems like a deliberate dig at Canelo Alvarez, who suffered his career's second professional loss this past weekend. The Mexican boxer went up yet another weight class to challenge Dmitry Bivol for the light-heavyweight crown. But unfortunately, it didn't go as he intended as the 31-year-old boxer got dominated for all 12 rounds.
 MMA Fans react to bold claims made by Khabib Nurmagomedov's manager
It is indeed factually correct that Mayweather hasn't tasted defeat, unlike his peers. With Alvarez picking yet another loss, this has cemented Mayweather as the undisputed GOAT (Greatest of all times) of boxing.
Watch this story: 5 Potential Opponents for Michael Chandler After a Devastating Knockout Over Tony Ferguson
Usually, the term that is used to denote the fighter in the world follows, pound-for-pound, but Abdelaziz added a strange twist to this phrase.
What's a count fit pound? Also where's noah?

— TheSam (@thesamynator) May 10, 2022
More fans jumped to the thread backing Floyd Mayweather's claim of being the best boxer to ever grace the squared circle. He might not be considered the most exciting fighter, but his legacy is simply unmatched.
This fan corrected Abdelaziz's claim, as at the time half the listed fighters had not picked up world titles at that time. These boxers went on to become world champions later on, but they weren't anywhere close to it when they fought Mayweather.
Floyd beat 8 champs: Fernandez, Castillo, Gatti, Judah, Baldomir, De La Hoya, Cotto and Maidana. The others are former, future or champs in other divisions. They don't count.

— Axel Henriksen (@henriksen_axel) May 10, 2022
It is no doubt that Abdelaziz is still hoping to aid his client, UFC champion, Kamaru Usman to book a fight against Canelo Alvarez. This latest post fits right into that narrative as the welterweight kingpin continues his campaign to face the boxer.
My Man has those thoughts of counting his bag after usman fights canelo so much that he can't even write a sentence about boxing without mentioning Counting

— FrNzK (@FrNzK2) May 10, 2022
Boxing fans have another name in mind that doesn't follow the popular opinion.
Somehow, Michael Bisping has been mentioned in the thread without ever turning pro in boxing. 'The Count' and his fan following seem to live on despite being removed from active competition for more than 5 years.
Please don't discredit Michael Bisping

— Hype train Choo choo (@ufchypetrain) May 10, 2022
Is this different from Count for pound and pound for pound? 😂

— Tito Lil'BitOrtiz ⚒️ (@NewTitoAgain) May 10, 2022
ADVERTISEMENT
Article continues below this ad
The boxing community continues to loft accusations against Mayweather for avoiding fighters in their prime. Is there some truth to these claims?
Duct Oscar til Oscar was washed , also lost but still won In The one fight against what's his name , also not convinced he fought guys that were not on they're best stages of they're careers,Mosley,etc so for me he's not king 4p4p

— Tim Sawan (@TimSawan3) May 10, 2022
ADVERTISEMENT
Article continues below this ad
Do you agree with Ali Abdelaziz's assessment? Share your thoughts in the comments below.