'I Like the Winners'- Nate Diaz Has an Opponent in Mind Upon His Octagon Return
Published 02/09/2021, 10:06 PM EST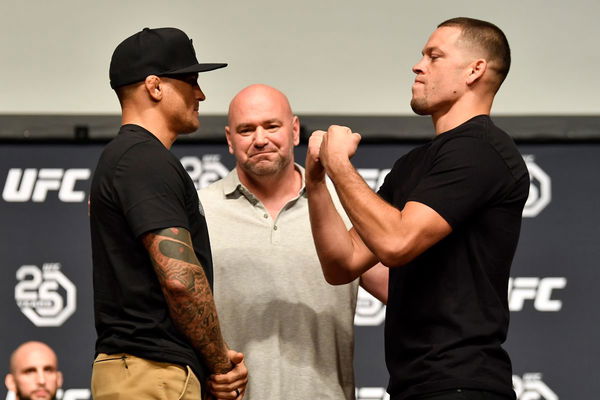 ---
---
Nate Diaz hasn't competed since his controversial UFC 244 loss to Jorge Masvidal. Diaz lost the BMF title fight as the doctors stopped the contest due to a cut over his right eye because of a continuous Masvidal onslaught. But, it seems like the return of the younger Diaz brother is upon us, as the Stockton native is lining up opponents in his mind.
ADVERTISEMENT
Article continues below this ad
Diaz's last four fights spanning over almost 5 years have all been in the welterweight division. He last fought at the 155 lbs division against Michael Johnson in 2015. However, it seems like Nathan Diaz has some lightweight contenders in his mind as possible next dance partners.
"Yeah because that because I never lost a fight like all these guys, a whole lightweight division taken out all you know I'm saying every single one of them I except for what's the name who just beat Ferguson," said Diaz.
ADVERTISEMENT
Article continues below this ad
"I like guys I like the winners you know I'm saying cause I'm the winner I haven't lost to nobody you know guys and a few guys last thing say finish my first of all, I never got finished off like everybody else like KOed knocked on the a** sleeping unconscious. choked out none of that's happened to me. You know, so I'm like I'm trying to fight the guys who are winning," he added.
"I'll fight with a guy at 170 too. But, ain't nobody at 170 now all divisions all when those guys grow up I'll fight somebody at 170, the 55 division has some guys. I like Oliveira fight or Dustin Poirier fight," he concluded.
Which weight class should Nate Diaz fight at next?
It seemed like Diaz would fight as a lightweight upon his return. But, by his recent hints, he has indicated that he doesn't intend to cut that extra weight anymore and would be content to fight at the 170lbs division, rather. Even if he fights the likes of Dustin Poirier or Charles Oliveira, he wants that to be at welterweight.
ADVERTISEMENT
Article continues below this ad
Tony Ferguson also called out Diaz. A fight between 'El Cucuy' and Diaz is high on every fan's wishlist. Imagine those two warriors sharing the Octagon and going at each other.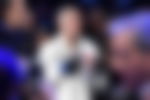 Diaz has fought in the welterweight division many times before. So, it won't be unknown territory for him. But, whether the top lightweights would be willing to fight him at a different weight is the biggest question.
ADVERTISEMENT
Article continues below this ad
Who should Diaz fight next? Let us know your thoughts.