Dustin Poirier Rejects the Idea of Conor McGregor Changing His Stance at UFC 257
Published 02/02/2021, 1:37 PM EST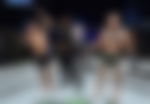 ---
---
Ever since Dustin Poirier knocked out Conor McGregor, experts have been breaking down film to analyze what exactly went wrong for the Irishman. One of the theories coming forward is that McGregor resorted to a different stance at UFC 257. However, for Poirier, all of this is white noise. The only reason he believes he could defeat McGregor is that he had given his all in training.
ADVERTISEMENT
Article continues below this ad
Talking to Luke Thomas on Morning Kombat, Poirier broke down into the technicalities of the last UFC PPV headliner. When Thomas asked Poirier how much he bought into the idea that McGregor had a different stance in the rematch, Poirier's response was rather lukewarm.
Those @DustinPoirier leg kicks were no joke!

Conor McGregor limps out of the arena after #UFC257 😳 pic.twitter.com/rGNm4wzD3N

— UFC on BT Sport (@btsportufc) January 24, 2021
ADVERTISEMENT
Article continues below this ad
"I think there's a lot of reaching and a lot of people trying to find a reason why I beat the guy. The reason is I have forty-something mixed martial arts fights, and I have dedicated my life to being the best fighter I can be," Poirier said.
"You know if Conor would've gone out there and knocked me out, those same people who are saying this or that or anything negative would've said that's the best he has ever looked. He's evolved his game and his stance looks incredible. I don't play into all of that stuff. It was the fistfight not won. I don't play a whole lot into that, the good or the bad," he added.
How much has the stance of Conor McGregor actually changed?
If one analyses McGregor's stance change throughout his career, there are changes, but they have been rather gradual. He has seen the most success while maintaining distance and moving in and out. However, as his fight progresses into the later rounds, he comes closer in the boxing range. On top of this, McGregor has had his best moments not against southpaws, but against orthodox opponents.
The Nate Diaz fight is another example of the same. McGregor doesn't always find the best angles to land his punches when he goes up against fellow southpaws. Moreover, a prominent part of McGregor's arsenal has been the variety of kicks that he throws to make his striking dynamic. However, there were almost negligible kicks that McGregor landed against Poirier.
ADVERTISEMENT
Article continues below this ad
Along with this, Poirier did an excellent job of slipping under McGregor's punches and landing quality shots of his own. All these grouped together went on to give McGregor his first professional defeat via knockout.
"I felt different (in) understanding his range and timing, the danger of fighting him, my understanding, and my abilities and threats for him. I felt different," Poirier said, regarding what was different from his end in the rematch.
Chances are that whatever fallacies McGregor's game had, should get fixed in his next fight. Moreover, it would be a much better idea for him to fight an orthodox fighter in his next outing.
ADVERTISEMENT
Article continues below this ad
THROWBACK: When Conor McGregor Sparked Controversy By Meeting Russian President Vladimir Putin