Ex-UFC Fighter Paige VanZant Brutally Dissed by Fans After Massive Tattoo Botch-Up: "You Will Be Losing More Fans Than Fights"
Published 05/24/2022, 9:30 AM EDT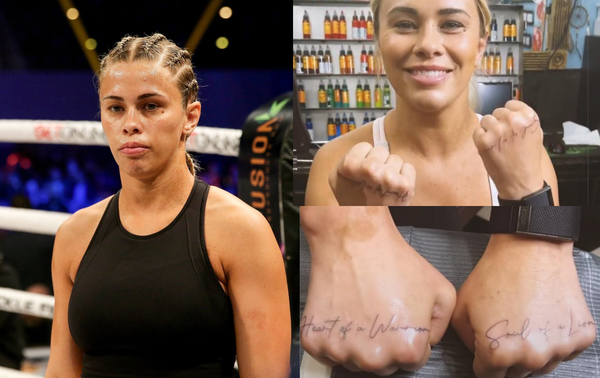 Paige VanZant is a pretty popular name in the combat sports community. Because of her fighting career and participation in reality shows, VanZant enjoys a huge fan following. The former UFC fighter does her best to keep her fans updated. Recently, VanZant shared a post on her Instagram of a tattoo she got. Netizens had quite the reaction to this tattoo.
 

View this post on Instagram

 
Posting the video on Instagram, VanZant captioned it saying, " "Heart of a Warrior, Soul of a Lion." No one can ever deny how much heart I have in my fights. At times I'll drop everything I have ever learned and fight with nothing but pride, which doesn't always lead to the best outcome. This is a reminder to myself, I already have the heart and soul all I need to do is take care of the rest. 👊🏼 thanks for the work @_zack_aaron_tattoo_".
ADVERTISEMENT
Article continues below this ad
Fans and followers of Paige VanZant had quite an interesting reaction to her new tattoo. A user named ernesto__007 expressed his displeasure on seeing the tattoo. The comment said, "Stupidest tattoo ever just like your husbands 🤦🏽‍♂️". Another user by the ID of eyeewishh said, "Wow that s**t is wack".
breesey22 questioned VanZant by commenting, "Are you going through a midlife crisis?". Further, indecisivemind20 expressed his opinion by saying, "That placement is atrocious".
Another fan commented, "That's the dumbest tattoo ever! He should be ashamed for putting that on you." An Instagram ID by the name of anstagram7 commented on the post saying, "You SUCK at fighting, stick to "modeling". Another comment said, "Stop getting tattoos please these are so bad lol" j_will122 commented on the post saying, "That is so stupid😅"
An Instagram user named thewolfofgreensboro reacted to the post and commented, "Really?". A user named curtis_corp expressed his opinion by saying, "You will be losing more fans than fights if you keep this up."
While Paige VanZant posts about her new tattoo on social media, it is also important to note the new career beginnings she has had. VanZant has proven herself to be a woman of many talents.
Paige VanZant's transition from Combat Sports to Pro-Wrestling
Paige VanZant first came in the eye of the combat sports community because of her career in Mixed Martial Arts. VanZant made her UFC Octagon debut in 2014.
Since then, VanZant has had a career with both ups and downs. In her career in the UFC, VanZant won five fights, and she lost four in the process. In 2020, VanZant left the UFC and tested free agency.
ADVERTISEMENT
Article continues below this ad
While testing free agency, VanZant made a shock move to bare knuckle boxing. She signed a 4 fight contract with Bare Knuckle Fighting Championship, which was worth over $1 million. In her bare knuckle debut, she faced Britain Hart. VanZant lost this fight via a unanimous decision.
In her second fight, she faced Rachael Ostovich, whom she once beat in the UFC. However, things did not go as planned for VanZant, as this time she lost to Ostovich via a unanimous decision once again.
Following her loss, VanZant made her pro-wrestling debut. The following week, VanZant was seen on AEW again as she attacked Chris Jericho. In March 2022, AEW CEO Tony Kahn announced that Paige VanZant will sign a contract with AEW.
ADVERTISEMENT
Article continues below this ad
Watch This Story: Conor McGregor's Super Human Transformation After the Horrific Injury at UFC 264
Moreover, it seems as if VanZant has a lot on her platter. The former UFC fighter will look to make a name for herself, considering the amount of things she is involved in. Let us know your thoughts on this in the comments down below.