Failed Ceremonial Pitch Proves Las Vegas Raiders Superstar's Claim on "Hell of a Quarterback" Conor McGregor Is Dubious
Published 05/03/2022, 6:30 AM EDT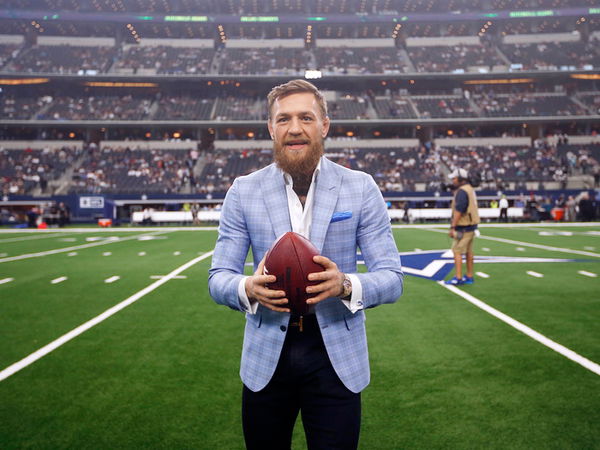 Conor McGregor is a man of many talents. The Irishman has been a plumber by profession, played amateur league soccer, and then transitioned to become the biggest MMA star of all time. 'The Notorious' Conor McGregor lives up to his name by being the most lively and disruptive fighter in the UFC. That being said, he might be good with the ball at his feet, but seemingly not with the ball at his hands. 
ADVERTISEMENT
Article continues below this ad
Recently, Las Vegas Raiders superstar Maxx Crosby, in an interview while attending a UFC event, was asked to draft his squad using UFC fighters. Crosby proceeded to place McGregor as the quarterback for his team. This might have been prematurely thought of or done with no knowledge of McGregor's lack of skills when it comes to a ball in his hands. 
ADVERTISEMENT
Article continues below this ad
Crossby stated, "Quarterback? Ooh. That's tough, um. I think Conor McGregor. He's got the confidence, he'll swing, he's a lefty, I think he would be a hell of a quarterback."
WATCH THIS STORY – Tyson Fury, Kamaru Usman, Dana White, And Others React To Mike Tyson Battering A Drunk Fan On A Flight
A Twitter user found the perfect moment to dig up one of Conor McGregor's most embarrassing cross-sport moments. Replying to the defensive end, @buffaloco9987 tweeted, "This is your quarterback?"
This video was shot when Conor McGregor was honored with the ceremonial first pitch before a Chicago Cubs game. He went down with 50-Cent for having one of the worst pitching showcases of all time in the celebrity world.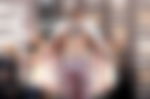 The moment was borderline embarrassing to watch as he completely missed his mark and proceeded to throw the ball yards away from the catcher. Although NFL and MLB are two different leagues of different sports, the throwing of a ball is common for pitchers and quarterbacks. They both involve precision and strength to launch the ball forward to the right spot as accurately as possible. 
ADVERTISEMENT
Article continues below this ad
What if Conor McGregor was a soccer player? 
For those who don't know, the UFC superstar was on track to play professional soccer. An avid soccer fan from his childhood, 'The Notorious' played for an amateur soccer league in Ireland before transitioning into MMA.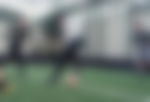 ADVERTISEMENT
Article continues below this ad
The Irishman, however, stated that playing soccer for a living was not a concrete plan in his head. He had to convince his parents that he saw a true future for himself in the world of MMA.
Supposing that he never had MMA as an option for himself, we could've seen Conor McGregor in a European club soccer game.