Fans Blame Host Daniel Cormier for "Instigating" as Guest Kamaru Usman Gets Mad Over "Disrespectful" Leon Edwards' Comments Ahead of UFC 286
Published 03/18/2023, 9:00 AM EDT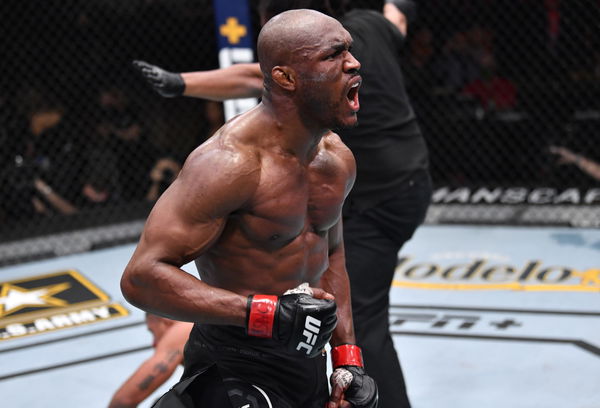 Kamaru Usman and Leon Edwards are all fired up to face each other in an anticipated bout at UFC 286. The welterweight champion looks to secure his first title defense against the former champ. Furthermore, both fighters are geared up to win the trilogy as the score stands at one apiece. The interviews and interactions leading up to the fight only show that the fighters are itching to get their hands on each other.
Moreover, Usman is also being asked about him getting knockout at UFC 278 by 'Rocky'. In a recent viral video, the fans saw an angry Kamaru Usman speaking about Leon Edwards' words for him. The fans also saw the host Daniel Cormier adding fire between the two.
Kamaru Usman reacts to Leon Edwards' interview
ADVERTISEMENT
Article continues below this ad
Daniel Cormier asked the former welterweight champion what he thought about Edwards' latest take on their fight. Cormier put forth 'Rocky's' statement as "Leon Edwards said that was his worst fight and you couldn't finish him".
 

View this post on Instagram

 
An angry Usman replied, "Sh*t how disrespectful is that statement? It's extremely disrespectful. But the problem is, and the one thing he's not accounting for is that's not the first time we fought. That was the second time. What do you want to tell me about the first time we fought? Because the first time looked a lot like the second fight. He can say whatever he wants to say. You know, I think that was a very disrespectful statement."
Furthermore, Usman also revealed what he thought about UFC 278. 'The Nigerian Nightmare' added, "And I think that was walking into a room and you saw a lion sitting in the corner. And you went and poked that lion then go outside. Because a lion didn't do sh**. Go outside and tell everybody, 'Man, I poked that lion. He ain't doing nothing'. Okay. Well, the lion then woke up. And this Saturday, all that sh*t he was talking. You gotta say that to me."
Fans react to Daniel Cormier "instigating" Kamaru Usman
The fans had fun while watching Kamaru Usman rant and thrash Leon Edwards in the latest video. Many shared their opinion on the words and stories used by the former welterweight champion. Additionally, there were fans that commented on Cormier's instigating skills as well.
One fan said, "This sh*t is gold". 
Another social media user added, "DC with the ultimate instigating skills… love it". 
Similarly, another fan added, "DC just earned a gold medal in instigating".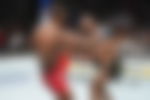 One comment read, "I love both Leon and Kamaru, but come on bro he did a little more than poke the lion lol".
ADVERTISEMENT
Article continues below this ad
Moreover, a fan said, "Sounds like he's trying to convince himself".
There were some fans that trolled the former champion too. One fan said, "Kicked the lion in the head and sent him to the shadow realm".
Another fan said, ""Poke the lion" *proceeds to get sent into the shadow realm*"
ADVERTISEMENT
Article continues below this ad
What do you think about Kamaru Usman's reaction? Let us know in the comments.
Watch this story: 5 Worst Injuries In The UFC
Edited By: Debmallya Chakraborty