Fans Speculate the Return of Angry Dana White After Nate Diaz Pees at the UFC Performance Institute
Published 05/12/2022, 8:14 AM EDT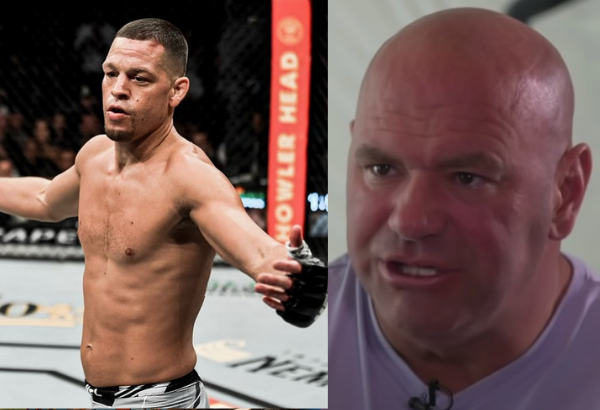 It looks like 2022 will most likely be the final year for the legendary Diaz brothers in UFC. Both Nick and Nate Diaz have been a key part of the MMA community for well over 2 decades. With Nick taking a break from fighting for over 5 years, and Nate at the tail end of his contract, it only points towards retirement.
ADVERTISEMENT
Article continues below this ad
The Diaz army has been delivering exciting fights for the fans for the past 2 decades. Surely their absence will impact the sport. Only last year, Nick made his return against Robbie Lawler, but unfortunately, he seemed like a shell of his former self. Similarly, Nate has also reached the tail end of his career.
ADVERTISEMENT
Article continues below this ad
Nate Diaz triggers a meltdown on Twitter
The former title challenger has been finding it quite difficult to book his final fight with the promotion. The Stockton resident has been making numerous tweets towards the UFC brass, but to no avail. The mounting frustration and the elongated inactivity have seemed to trigger the star to do something strange.
Diaz dialed up his attack on the promotion as he quite literally, took a piss at the performance Institute. UFC president Dana White is definitely not going to like this at all.
He also took aim at the sports brand Venum, as it is currently having a tie-up with UFC.
And here's 🖕🏼for bitchass venum ufc gear 2

— Nathan Diaz (@NateDiaz209) May 12, 2022
Fans took to the thread to offer their words of advice, requesting the mixed martial artist to focus on the sport. Oh well, this advice might not bear any fruits, as Diaz is hoping to fight out his contract.
Nathan, you need to work on your punching power, if you did this, you'd be a top 5 fighter in the welterweight division.

— Argisht (@Agomeister777) May 12, 2022
While others defended the veteran fighter as the verbal barrage of attacks continued.
Why does everyone think they can give advice from their couch🤷🤣

— Don't try and follow..We aren't friends 🤡 (@JbeforeJay) May 12, 2022
Wait till the UFC head honcho gets the wind of this, it just might bring out the angry version of Dana White. Fans seem certain that the promotion will not take this incident lightly.
This fan reminded Diaz of his current predicament by stating 'Dana owns you'. As long as the contract stands, Diaz will continue to be exclusively signed with UFC.
dana owns you

— andy bishop official (@cyberwark7) May 12, 2022
Some portion of the MMA community dubbed it as the 'greatest things of all time' trumping even Conor's incident.
I'm tryna sleep and u tweet one of the greatest things of all time

— chris (@Jiddss) May 12, 2022
It looks like Diaz no longer wishes to finish his fighting career with the promotion and is actively seeking a way out.
It seems like he is really pulling no punches in his quest to exit UFC. Will the promotion oblige?
The simple answer to that question is 'No'. Given the state of his contract and barrage of tweets attacking the promotion, it would be okay to assume the same.
U don't like fighting

— Brett Juarez (@BrettTheThreat4) May 12, 2022
Over 2 decades in the fight game and a lot of money made, Diaz is definitely in a comfortable position to exit the sport.
ouch… he still made money though. but 8 yrs? I didnt think it was that long.

— Nigel Morris (@NigelMO21) May 12, 2022
ADVERTISEMENT
Article continues below this ad
Diaz has been calling out several fighters to conclude his contract. From the likes of Dustin Poirier to Conor McGregor and even Michael Chandler. A leaked image in the community has revealed UFC's inclination to book him against Swedish star Khamzat Chimaev, but Diaz has previously declined this matchup.
ADVERTISEMENT
Article continues below this ad
Watch this story: Five Fights UFC Fans Would Like to See in 2022: Francis Ngannou vs Jon Jones, Nate Diaz vs Conor McGregor 3, and More
Should the promotion bow down to Nate's demands? Leave your thoughts below.