Five Surprising Facts About UFC Announcer Bruce Buffer
Published 09/25/2020, 1:03 PM EDT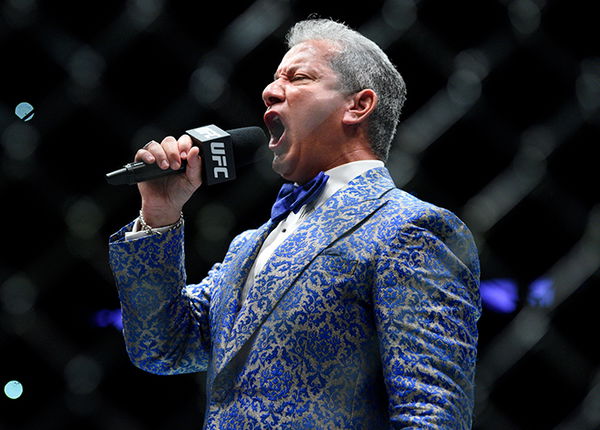 The UFC has grown from an underground promotion that was denied entry to cities and arenas to become the global leader in MMA. Their journey has not been easy and their current success can be put down to one thing. The loyalty displayed by employees during the struggles they faced in their nascent stages. While many owe the rise of the company to Dana White and the Fertitta brothers, Bruce Buffer has stuck with the UFC through thick and thin.
He has been a figurehead in helping the company build a loyal fan base through his attention-catching voice since 1996. Buffer announced the UFC 8: David vs Goliath preliminary bouts on February 16, 1996, and has lent his voice for the introductions at umpteen UFC events ever since. 
 

View this post on Instagram

 
ADVERTISEMENT
Article continues below this ad
Recently, the 'Veteran Voice of the Octagon' completed 25 years with the UFC and received a tribute on the UFC 258 broadcast. However, even at 63, he is showing no signs of slowing down with his announcing duties. Buffer maintains a full schedule and gives it his all on the mic. 
Buffer maintains that he would like to be around for another decade, and fans hope that his health permits him to do so. While many casuals may know about the 63-year-old as an announcer, they may be unfamiliar with the person behind the personality.
Here are some surprising facts about 'The Veteran Voice of the Octagon'.
Bruce Buffer is a former martial artist
Bruce Buffer dabbled in mixed martial arts as a teen and stayed true to the sport well into his adult life. Unfortunately, he suffered a concussion and doctors advised him to walk away.
The fighter would have been devastated. However, he stayed close to the sport he loved and combined the interest with another ingrained talent. i.e. his voice.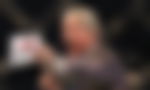 The announcer made his emceeing bow nearly two-and-a-half decades ago and hasn't looked back. As the UFC announcer, Buffer needs to make it into the cage quickly to introduce fighters and reveal the results. Hence, he needs to be close to the octagon. This means he has one of the best seats in the house to catch fights from up close, and he gets paid to watch the fights. How cool is that!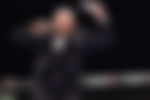 The former mixed martial artist never truly left the sport and is an example of the sport taking care of its former stars. 
Not the first in his family to have a catchphrase
Announcing is in Bruce Buffer's blood. The 'Veteran Voice of the Octagon' may own phrases such as, "This is the main event of the evening" and "It's Time." However, he will always know that it was his long-lost half-brother who ruled the 80s and the 90s with a catchphrase that may evoke nostalgia among classic boxing and wrestling fans. 
Michael Buffer's, "Let's get ready to rumble" can take fans back to the glory days. There hasn't been an announcer to hold a candle to him yet. UFC fans may see this as a sign of what may happen at PPVs and Fight Nights should Bruce Buffer slow down or elect to call it a day. 
This is because, besides his UFC catchphrases, Buffer has incorporated unique routines into his announcer's repertoire. He introduced a "Buffer 360" to complement the '180', 90, and 45 turns he usually makes when introducing fighters. 
Bruce Buffer dabbled as a ring announcer for a boxing match
The prospect of seeing Buffer in a boxing ring would be alien to mixed martial arts fans. However, the unthinkable happened in 2008 as Bruce Buffer served as the emcee for HBO's Joel Casamayor vs Michael Katsidis lightweight title fight.
The then 51-year-old may have been a tad subdued as he introduced the pugilists. Even with his voice not ringing in fans' ears, he did a good job at it. However, in the eyes of UFC fans who regard his octagon introductions as the norm, it may have been underwhelming. 
Besides boxing, Buffer has ventured into announcing outside combat sports too. In October 2019, Buffer introduced the Kentucky Wildcats at 'Big Blue Madness'. 
It is quite startling to see how tweaking a few choice words helps Buffer keep the core elements of his shtick for multiple emceeing opportunities. Furthermore, Buffer announced at the World Series of Beer Pong in 2009. 
Has appeared on television shows and films as an announcer
Bruce Buffer has appeared in multiple sitcoms and feature films. The 'Veteran Voice of the Octagon's' film credits includes 'Entourage', 'Hot Tub Time Machine 2', 'Edge of Desire', and 'Here Comes the Boom'. Furthermore, he has appeared on F.R.I.E.N.D.S. and the feature film Holmes and Watson. 
Bruce Buffer – F.R.I.E.N.D.S.
Fans can catch a glimpse of the long-time UFC announcer on an episode of the highly popular comedy F.R.I.E.N.D.S. The cameo came in the penultimate episode of season three. The episode is aptly titled, "The One with the Ultimate Fighting Champion."
Here, viewers see Buffer in the octagon at a New York City event which the characters of Monica and Ross Geller attend. He introduced Tank Abbott for a fight that kept with the promotion's fledgling days of fighters not having restricted weight classes.
Holmes and Watson
The Buffer brothers made an appearance as fight fans in the 2018 film Holmes and Watson. In the sequence, as Braun Strowman flexes his arms, fans can hear Bruce Buffer's iconic, "Its Time."
As an approving crowd cheers him, the camera pans to Michael, who tweaks his "Let's get ready to rumble", and says, "Let's get ready to scuffle."
Bruce Buffer is a recognized Poker Player
Bruce Buffer is a skilled Poker player. He revealed that it was something he picked up as an eight-year-old boy. The interest stayed and now he is a ranked professional in the game. Presently, he is #6,247 on the all-time money list, and his live earnings tally to $354,804.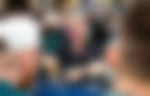 He has appeared in 60 events to date and claimed the win on two occasions. The first of his victories came on July 23, 2010, at the '$ 200 +25 No Hold'em- Main Event.' Buffer won $75,000 which is his highest take from a single event.  
Two years later, 'The Veteran Voice of the Octagon' won his second event at the 2012 California State Poker Championship, Los Angeles. Here, Buffer earned $11,500 for his play at the '$1,100 No Limit Hold'em- Bounty Turbo.' 
ADVERTISEMENT
Article continues below this ad
Buffer's exploits in the game are recognized, and the Luxor's Poker Room is named in his honor.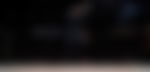 ADVERTISEMENT
Article continues below this ad