Five Times Colby Covington Broke Character and Exposed His True Self
Published 08/21/2021, 7:37 AM EDT

Follow Us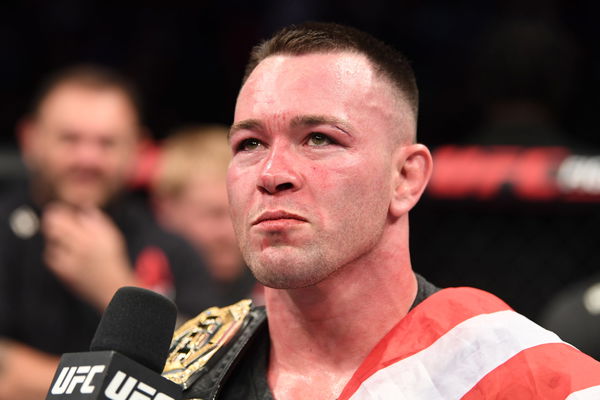 Besides being the most dominant UFC welterweight contender, Colby Covington is infamously known for demeaning his rivals through his trash-talk. 'Chaos' will take a dig at anyone who he dislikes, regardless of whether he is fighting them. 
As a result, Covington's fans always tune in to watch him obliterate his opponents. Meanwhile, his haters will tune in to watch him get knocked out. Regardless, he puts on a great show. However, 'Chaos' has a lesser-known side that many from the MMA community have not witnessed. 
ADVERTISEMENT
Article continues below this ad
Here are the five moments where Covington broke his character and exposed his true self. 
1. Opens up about being bullied
Every MMA athlete in the world has a story or an inspiration for why they became a fighter. And Covington's case is no different. His story goes way back to his high school days.
In one of his old interviews, the interviewer asked Covington why he became a fighter. That is when the 'Chaos' opened up about being bullied in his high school and how it helped him to be a fighter. 
Covington said – "When I got to high school, I got bullied a lot. I knew I wanted to like, learn skills to be able to defend myself. And then I realized in high school it was my passion to fight, that I knew that this is kind of what I was put on this earth to do."
2. Colby Covington gives inspirational advice to his fan
At UFC 225, Covington clashed against Rafael dos Anjos for the UFC interim welterweight title. As always, 'Chaos' dominated his opponent throughout the fight and won via a unanimous decision. 
After winning the title, Covington was set to face Robbie Lawler in his upcoming bout. During the build-up of the fight, he had an encounter with several of his fans in an airport. Several media outlets recorded that encounter in which 'Chaos' appeared to be very humble towards his fans.
Covington happily gave his championship belt to every fan who wanted to take a picture with him. When one of his fans asked him for some advice on being a fighter, Covington uttered some inspirational words that his fan would never forget.
Covington first asked the fan whether fighting is his passion, to which the fan replied – "Yeah, it is man." He then said to work hard and put every effort into his training.  
'Chaos' ended on the note saying – "You just believe in yourself. Never stop believing my brother."
3. 'Chaos' has a certain set of rules
As aforementioned, Covington always obliterates his rivals through his trash-talk. He is the type of person who won't stop taking a dig at someone he dislikes. However, even the greatest trash-talker has a certain set of rules.
Despite being an ardent trash-talker, Covington vows to never cross some lines. He believes that trash-talking about someone's race, religion, and more are some lines that no one should cross. 
4. Colby Covington apologizes to Joe Rogan
During the build-up of his fight against Dos Anjos at UFC 225, he and Joe Rogan had a misunderstood feud on Covington's part. On one of his episodes of 'The Joe Rogan Experience Podcast', Rogan called out 'Chaos' on some of his more brash actions.
Covington was then trash-talking about the former UFC heavyweight champion Fabricio Werdum and the former UFC light heavyweight champion Jon Jones. So, Rogan said that if Covington wasn't careful, he might bite off more than he could chew.
As a result, Covington retaliated with some insane "Slap" comments. However, in one of his interviews before UFC 225, the 'Chaos' issued an informal apology to Rogan, which is something that he never does.
Watch This Story: 5 Most Controversial Episodes of the Joe Rogan Experience Podcast
5. Stood up for every MMA fighter
Akin to sports like basketball and American football, every combat sport requires a lot of hard work and dedication. However, the major difference between them is the former are team sports, while the entire responsibility relies on a single person in combat sports.
In one of his interviews on 'The Candace Owens Show', Covington talked about the same. That is when he was brutally being honest about the mindset of every MMA athlete. 
ADVERTISEMENT
Article continues below this ad
'Chaos' said – "Everything that we get over in the UFC or MMA in general, as the MMA is the sport, is we had to earn it the hard way. You know, we are responsible for our own actions, you know. We don't make excuses for what happens. We go out there, and we take responsibility for a loss or for a win."
ADVERTISEMENT
Article continues below this ad
Regardless of his trash-talking, Covington is a top-ranked UFC welterweight contender. As of August 2021, he is ranked #1 in the UFC divisional rankings and is set to fight Kamaru Usman at UFC 268.
Do you believe all the trash-talk from the 'Chaos' is just to put on a show?