Francis Ngannou Blames Stipe Miocic for Trying to Control the Fight Frequency
Published 12/07/2020, 4:06 PM EST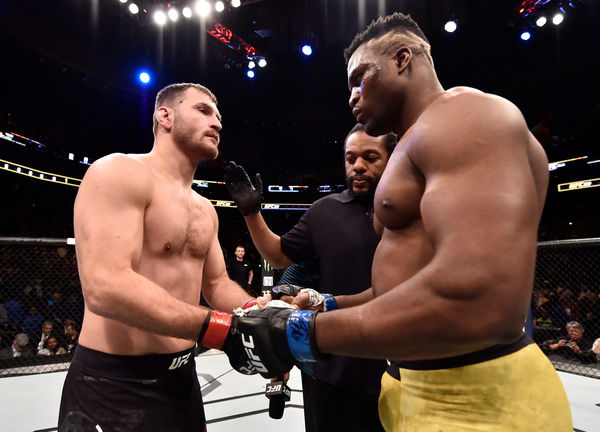 ---
---
Francis Ngannou is in a peculiarly tough spot right now. Despite delivering highlight reel knocks time-and-time again, he still hasn't fixed a fight with the divisional champ Stipe Miocic. Ngannou believes one reason for this is that Miocic is trying to regulate things on his own end, which isn't good for the division.
ADVERTISEMENT
Article continues below this ad
Ngannou was last seen in action when he demolished Jairzinho Rozenstruik in merely twenty seconds at UFC 249 in May. Such dominance has been synonymous with the Cameroonian in the past few fights. He has dispatched his past four opponents within a total time of three minutes.
ADVERTISEMENT
Article continues below this ad
"It's been a lifetime [since I last fought]," Ngannou said when speaking to MMA Fighting. "It's still kind of like frustrating even though I'm trying to take it out of my mind knowing that I can't do nothing to change it. Even before fighting in May, I've been through this same story, this same situation and it got me ready to face it again."
Miocic, in the past couple of years, has mostly focused on his trilogy with Daniel Cormier. However, what was one of the greatest trilogies of all time in the UFC has also proven to be the adversary for Ngannou.
Ngannou gives his opinion on the trilogy between Miocic and DC
Ngannou had his first crack at UFC heavyweight gold back in January 2018. Even back then, it Stipe sitting firmly on the heavyweight throne. He dictated the pace en route to a unanimous decision. Six months after the fight, Miocic lost the belt to Daniel Cormier, paving the way for their trilogy.
The trilogy culminated at UFC 252 earlier this year in August. Therefore, Ngannou thought that he would get his due shot at the belt by the end of the year. However, as of now, it seems that he will have to wait longer than that.
"Obviously, now I don't know. What I know, they just said March, but it's not official. Who knows? Who knows how that will play out," Ngannou said.
"My only thing with that trilogy is that [Stipe] has been holding the heavyweight division up for a long time. There hasn't been a title fight in this division for two years except for those between Stipe and D.C. and other than that there hasn't been a fight with contenders, which is what contenders fight for. To fight for the title but there is no title going on in this division.
"I don't how long that is going to last. I'm sure it's not just me saying that. Other contenders also feel the same way because if there's not a title fight, contenders, they're not moving on. They're just fighting without purpose. Without a real goal."
Read: Rachael Ostovich Becomes Latest Fighter to Get Cut From the UFC Roster
Francis Ngannou wanted the fight against Rozenstruik to be for the interim title
The ongoing seven months of inactivity aren't the sole reason behind the frustration of the Cameroonian. Even before the fight in May, Ngannou was on the shelf for over eleven months. When the UFC wanted to book the fight between him and Rozenstruik, he wanted it to be for the interim title. Had that been the case, Ngannou would've had more leverage in campaigning for a title shot.
However, 'The Predator' knows very well that it is the UFC that calls the shots.
"At the end of the day, Stipe doesn't decide much," Ngannou said. "I think the UFC is in charge of things. That's why my last fight, we requested that to be an interim [title] fight so we can fight for something and if that would have been for an interim fight, I'm sure I would be fighting by now.
ADVERTISEMENT
Article continues below this ad
"Obviously, Stipe on his end wants to do things his way, which is what everyone wants to do. But it's not for him to regulate the situation in the division. It's not his duty."
Ngannou returned from his home country of Cameroon to the USA. He had anticipated that following the trilogy in August, he would've at least have a date for a title shot. However, it looks as if his fortune is testing his patience right now. With the form that he is right now, Ngannou is itching to get back in the Octagon. Moreover, with the experience of the previous fight in his bag, he will look to finally get his hands on UFC gold.
ADVERTISEMENT
Article continues below this ad