Francis Ngannou Says He Will Not Get Tired in 25 Minutes This Time
Published 03/25/2021, 2:16 AM EDT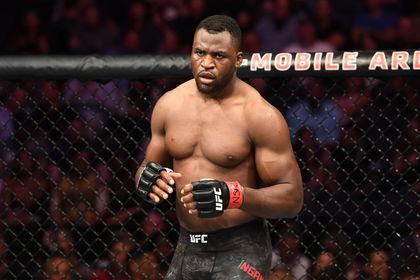 ---
---
UFC 260 is going to be one of the biggest events of the year, literally so. The main event features a title fight in the heavyweight division between the champion Stipe Miocic and Francis Ngannou. However, this won't be the first time they will cross paths.
ADVERTISEMENT
Article continues below this ad
Their first fight was also for the belt, and it was a fantastic affair. Stipe won the fight via decision after five rounds in an amazing display of endurance. He won all five rounds, and all three judges scored the fight 50 – 44 in favor of the American.
Ngannou looked like he was gassed out by the end of the fight, and ahead of their rematch on Saturday, he talked about it with Brett Okamoto in an interview with ESPN MMA. "I was tired, and I think everyone going to 25 minutes get tired. Some people more than some, but nobody come fresh from 25 minutes of (the) fight," he said.
ADVERTISEMENT
Article continues below this ad

However, things have changed now, and he has put in the work in the gym. His teammates have had rave reviews about his endurance now and Ngannou confirmed as much. "I improved my space of pushing my conditioning, my endurance, and everything. I work on that a lot," he said.
This new and improved version of 'The Predator' is a scary sight for the entire heavyweight division. He has knocked his last four opponents out, and only one of them made it past a minute. Former heavyweight star Junior Dos Santos managed to last 1 minute and 11 seconds in the octagon with Ngannou.
Francis Ngannou promises a better display against Miocic than their first fight.
The development is there to see, and the Cameroonian has promised a better display than the last time. He said that he would get tired in this fight as well, but he'll push for more. According to him, if he doesn't get tired after 25 minutes of fighting, then something's wrong.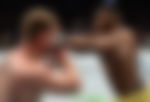 "I'm not expecting to not get tired in 25 minutes because that means something is not right. I gotta be tired, but how far can I push from last time? This is the question. I truly believe that I can go way more than the last time," he concluded.
ADVERTISEMENT
Article continues below this ad
It will be really interesting to see this beast of a man fight again. Keep your eyes glued to the screen on Saturday as Ngannou doesn't like to keep his fights going for a long amount of time.
Do you think Francis Ngannou has changed enough to beat Stipe Miocic?
ADVERTISEMENT
Article continues below this ad