From Sparring Partner to Mentor, the Relationship Between Ronda Rousey and Edmen Shahbazyan
Published 05/19/2021, 8:28 AM EDT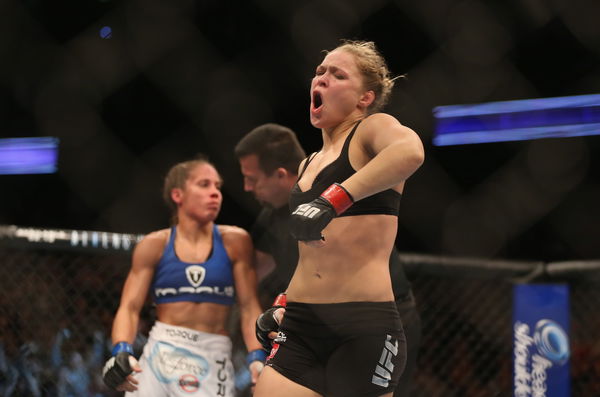 ---
---
Edmen Shahbazyan, aka 'The Golden Boy', is one of the most talented up-and-coming stars in MMA. The Middleweight fighter has had an amazing MMA record (11-1) till now and is No.10 in the UFC middleweight rankings. Ronda Rousey's One fight management manages Shahbazyan as well, and Ronda Rousey shares a great relationship with 'The Golden Boy.'
ADVERTISEMENT
Article continues below this ad
Shahbazyan had even talked about how he thinks he is very lucky to have Rousey by his side. Shahbazyan has been getting much attention at a very young and this might affect many people, but not him. The middleweight fighter thinks he is lucky to have been around 'Rowdy' when she was at the top of her stardom and how that has helped him deal with all the attention and pressure.
ADVERTISEMENT
Article continues below this ad
Way back in 2013, Rousey was performing an open workout before her UFC debut. At time time, Rousey sparred with a 15-year-old that was none other than Edmen Shahbazyan. as both the fighters shared the same trainer in Edmond Tarverdyan.
Revisiting those memories, Rousey said, "That's my fighter. He's always been special. 
He is the first generation of kids that only did MMA, as he was obsessed with MMA when I was training at the gym. He was actually my throwing dummy."
Talking about this and how being around 'Rowdy' helped him, Shahbazyan said, "I kind of experienced that growing up watching her and watching her prepare for those big fights.
"That helped me a lot growing up and having her by me and watching her fame and her rise to the top. That is an advantage I have in the future."
Edmen Shahbazyan says Ronda Rousey is like an older sister
Though Rousey was at her peak when Shahbazyan was just a 15-year-old boy, the pair did not train together very often. However, Shahbazyan says that if he ever needed any help from Rousey, she was always available.
"It is cool and awesome having such a big name like her to manage me and represent me. I look at her like an older sister. From a young age, I have known her and it is cool she is doing this for us."
ADVERTISEMENT
Article continues below this ad
Ronda Rousey has been with Shahbazyan for a long time and has helped him grow as a fighter. 'The Golden Boy' suffered his first professional MMA loss against Derek Brunson at UFC Fight Night: Brunson vs. Shahbazyan. After the fight, Brunson had taken to social media to praise the young fighter.
Rousey then replied to Brunson writing, " Thank you, Derek Brunson, congrats on your well-deserved victory, and thank you for teaching Edmen Shahbazyan lessons he needed to be a champion."
ADVERTISEMENT
Article continues below this ad
The way both fighters talk about each other clearly shows mutual respect between them. With Rousey as her manager and support, it would be great to see how Shahbazyan carries forward his MMA journey.