Georges St-Pierre Reveals How MMA Training Is Helping His Hollywood Career
Published 04/06/2021, 12:28 AM EDT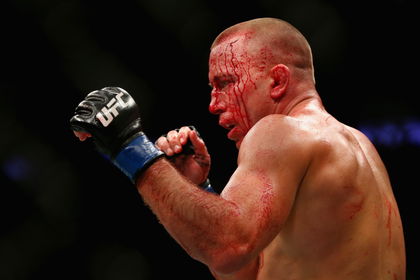 ---
---
Former UFC welterweight and middleweight champion Georges St-Pierre hasn't competed in the UFC since his 2017 win over Michael Bisping at UFC 217. 'Rush' is currently pursuing a career in Hollywood and in the Marvel Cinematic Universe to be specific.
ADVERTISEMENT
Article continues below this ad
St-Pierre appeared in the Falcon and The Winter Soldier series as he played the role of Batroc the leaper. In his fight against Sam Wilson, played by Anthony Mackie, St-Pierre landed a double-legged takedown on him.
It was a signature move from the fighting days of the former UFC champion. St-Pierre explained how his combat experience is helping him in these scenes.
ADVERTISEMENT
Article continues below this ad
Speaking to Toronto Sun, St-Pierre said, "It shows that Batroc has improved his fighting skills, When Batroc fought Cap, he used Savate (the French form of kickboxing), which has a lot of acrobatic stuff. When we see him fight in the plane against Falcon, he's gotten better. He's a more lethal fighter than he was when he met Steve Rogers."
St-Pierre has previously appeared in the MCU in the Captain America: The Winter Soldier movie. His Batroc character faced off against Steve Rogers played by Chris Evans.
However, Batroc was demolished almost as soon as the fight started. But his character didn't die. So, the Canadian legend knew that there might be some sort of involvement in the future for him.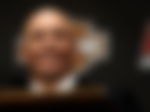 "He didn't die, so I knew anything could happen," he said. "Now he's going to have vengeance in his heart and he's going to be ready for the next time he crosses paths with the Falcon," St-Pierre added.
Georges St-Pierre says he is working as hard as his UFC career for his acting career
'Rush' is very serious about his role of Batroc The Leaper. He wants to excel in this industry after making history with the UFC.
And he is putting his all into his new trade. "I'm putting the same energy I put into my martial arts career as an athlete into being an actor in order to deliver for the fans and myself, so we'll see what the future holds for Batroc the Leaper," he said recently.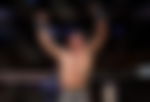 St-Pierre has created countless unforgettable moments inside the Octagon during his tenure as a fighter. Now, how much impact he can cause in his acting career remains to be seen.
ADVERTISEMENT
Article continues below this ad
What did you make of Georges St-Pierre's comments? Let us know your thoughts.
ADVERTISEMENT
Article continues below this ad