'Go Hit Him in the Mouth'- Conor McGregor Shows His Son How to Deal With Bullies
Published 04/13/2021, 10:51 AM EDT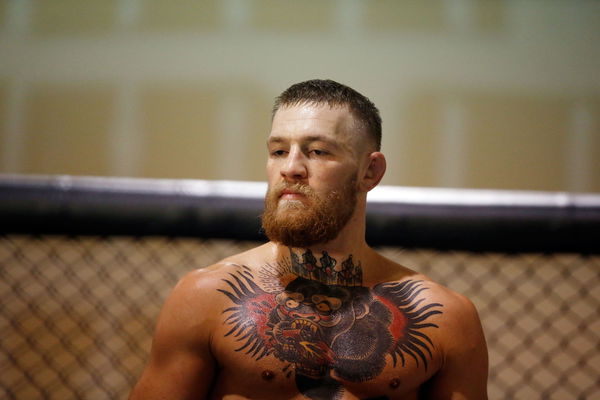 ---
---
Conor McGregor is easily one of the most popular MMA fighters in the world. 'The Notorious' is a former featherweight and lightweight UFC champion. The former champ is as popular for his comments outside the ring as he is for his abilities in the cage.
ADVERTISEMENT
Article continues below this ad
Recently, McGregor posted a video showing him teaching his kid how to deal with a bully. The video showed us the side of McGregor we don't get to see much, and it was great to watch.
In the video, we see McGregor showing his son the McGregor family crest and explaining to him the meaning it holds. "Hold on, let me show you what this is? What's this, tell me what it is. This is the McGregor family crown champ, this is the McGregor family crest look at it. It's a king's, or it's a lion's head with a crown on it. Because you are a king, we are kings."
ADVERTISEMENT
Article continues below this ad
McGregor always has always stood up for himself. He has never backed down from any challenge and is teaching his son the same values.
"Did he hit you, did he, where did he hit you, what do you say hit him back. Where are you going to hit him, hit him in the mouth, he hit you in the back, did he? Go hit him in the mouth, aim for the mouth. Yeah, we're going to hit him then be faster, that's what we train yeah. Yeah, let me do some boxing training come on, Hands up."
ADVERTISEMENT
Article continues below this ad
Conor McGregor was bullied when he was a kid
The video meant a lot more because McGregor had earlier revealed that he was bullied as a kid. McGregor had revealed how in his childhood he used to get upset and run away if someone said or did anything to him.
'Notorious' had revealed that he always kept a dumbbell in his backpack. He didn't keep books, just that dumbbell for protection. McGregor always used to keep his bag slightly open so that he could pull out the dumbbell whenever needed.
ADVERTISEMENT
Article continues below this ad
Bullying is one of the most disturbing and traumatic experiences one can face. At any stage of life, dealing with bullies is really important and as McGregor has dealt with bullies in his childhood, it was heartwarming to see him show his son how to deal with bullies.