'He Can't Beat People in the Top 10'- John McCarthy Warns Urijah Faber Ahead of His Potential UFC Return
Published 08/09/2021, 6:02 AM EDT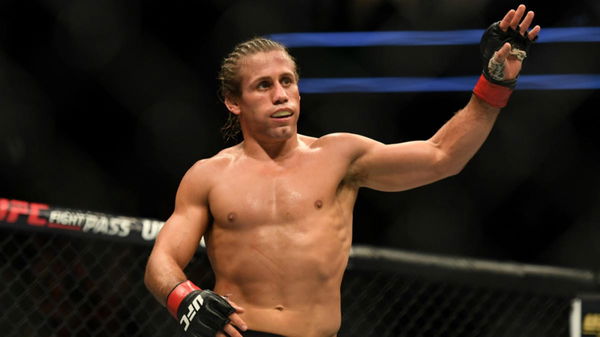 ---
---
Urijah Faber is an MMA legend and is one of the most loved fighters in the world. 'The California Kid' has competed in 46 professional MMA fights and has a record of 35-11. Faber last competed in the UFC back in 2019, as he faced Petr Yan at UFC 245. Faber lost that fight via a 3rd round KO.
ADVERTISEMENT
Article continues below this ad
The fighter hasn't competed since then and at 42 years of age, many believed the fighter will not fight again. However, there has been recent speculation that Faber wants to return to the Octagon one more time. Recently on their podcast, Josh Thompson and John McCarthy talked about the same.
ADVERTISEMENT
Article continues below this ad
McCarthy admired Faber for all he does for MMA but believes that he should not fight again. He said, "Stop, just stop. Look, I love Urijah. You had a fantastic career as a fighter. You've been incredible in helping other fighters move up the ranks. Get to places they wanna be, helping them getting them to the big organization. You've been a great trainer for guys."
"You've been a person that has helped them in the entire process of understanding the game, learning what to do, learning the techniques, learning how to handle your finances too. Love you, Urijah. Stop. You've got a family now. There is no reason to fight anymore. What are you fighting for?"
John McCarthy believes Urijah Faber can not believe any top 10 UFC fighter
McCarthy believes that there should be a valid reason behind Faber wanting to return. He also believes that 'The California Kid' can not defeat any top-ranked fighter in the bantamweight division.
ADVERTISEMENT
Article continues below this ad
He said, "If you were gonna say I'm coming back coz, I can be champ. Ok if that's the truth, you think you can get there great. Do it. It's like Jose Aldo, I think there's a possibility he can be the champion, he can have that kind of fight. He can pull that kind of fight off."
"Urijah can't. Urijah can't beat the people in the top 10. How many can he beat? He's not gonna beat Aljamain, he's not gonna beat Petr, He's not goon beat T.J."
ADVERTISEMENT
Article continues below this ad
"He's not gonna beat Cory, he won't beat Rob. We talked about Aldo, Marlon Moraes, Frankie Edgar, he's not gonna beat Edgar, Pedro Munhoz, he's not gonna beat, Pedro. He's already proved he can't beat Dominick Cruz. There is no one. Why do it? There's just no need for it."
Watch This Story: Five Times Jose Aldo Obliterated His Opponents in His MMA Career