"He Could Beat a Guy Like Jon Jones or Francis Ngannou"- Henry Cejudo Says UFC Can't Afford Gable Steveson
Published 08/24/2021, 12:58 PM EDT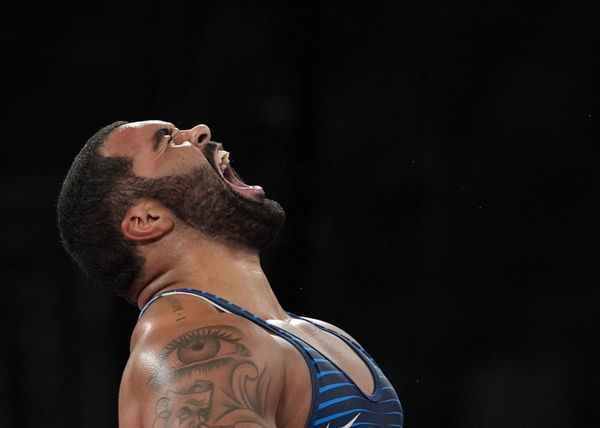 ---
---
Gable Steveson is one of the world's best freestyle wrestlers who competes in the heavyweight division. The American wrestler is currently one of the most popular athletes in combat sports, as he won a gold medal at the Tokyo Olympic games this year. The fighter is also the reigning Pan American Continental Champion, and at 21 years of age, is considered the future of combat sports.
ADVERTISEMENT
Article continues below this ad
There have recently been talks about the fighter eventually joining platforms like the WWE or the UFC. While many believe the fighter is inexperienced to compete in the UFC. Former UFC champion Henry Cejudo does not believe that. Cejudo has immense trust in Steveson and in a recent interview with TMZ Sports praised the fighter.
ADVERTISEMENT
Article continues below this ad
While talking about Steveson joining the UFC, the fighter even claimed that Steveson could defeat Jon Jones and Francis Ngannou in a couple of years. He said, "The UFC can't afford him. I'm sorry, they can afford him, but they're not gonna pay him, unfortunately. I do believe in the next couple of years he could beat a guy like Jon Jones or even Francis Ngannou. He's the biggest threat because of his wrestling base, which is extremely scary."
"He's a real heavyweight. If you were to put him in there right now, Jon Jones would hurt him, Francis Ngannou would hurt him. I've been there before. When I first fought Demetrious Johnson, I had already had stand up, and I got knocked out at 2 minutes and 36 seconds. So you do have to respect the game."
Will Gable Steveson join the UFC?
Recently, Steveson went on a combat sports tour of sorts. The fighter attended the Bellator 265 event and the WWE SummerSlam event. However, the fighter has yet not had any talk with the UFC.
This is not due to the lack of interest by Steveson. However, the fighter believes that Dana White did not pursue him and made no great attempt to contact him.
Watch This Story: Khabib Nurmagomedov and Islam Makhachev: Everything You Need to Know About Their Brotherly Bond
While it is yet unsure which promotion or if any Steveson will join. It would be a treat for every combat sports fan if he joins the UFC and faces someone like Jon Jones or Francis Ngannou.
What do you think, how will Steveson fare against the likes of Jon Jones and Francis Ngannou? Let us know in the comments.
ADVERTISEMENT
Article continues below this ad
ADVERTISEMENT
Article continues below this ad