'He Knows He's Not the Best'- TJ Dillashaw Belittles Henry Cejudo
Published 12/03/2020, 6:44 AM EST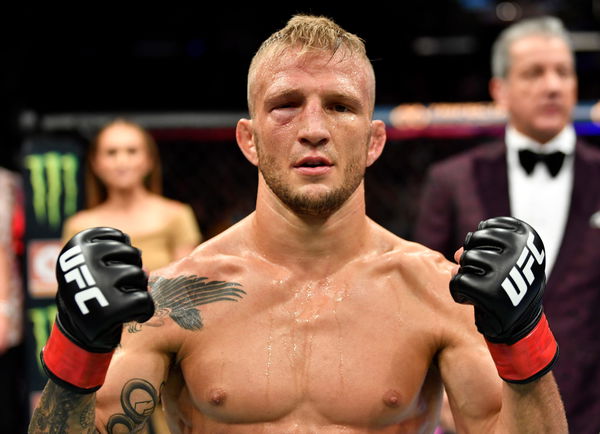 ---
---
Former UFC bantamweight champion TJ Dillashaw took to the airwaves and spoke out to ESPN Brett Okamoto. Dillashaw is eligible to make his return to active competition on January 18, 2021, after serving a two-year USADA suspension. The fighter was called out on consuming EPO, which is a banned substance per anti-doping guidelines.
ADVERTISEMENT
Article continues below this ad
TJ Dillashaw will get back to action after 47 days and it's clear he's ready to re-enter the mix. The divisional landscape has drastically changed since he left; however, he still believes he's on top of the competition. The former Alpha Male fighter was on his way towards becoming a two-division champion before Henry Cejudo dismantled him.
TJ Dillashaw goes after 'Triple C'
ADVERTISEMENT
Article continues below this ad
The 16-4 fighter in Dillashaw broke down Henry Cejudo's rise to fame and had plenty to say about his wins. He went after Cejudo's title-winning effort against Marlon Moraes and compared the latter's cardio to that of a bulldog. Now, TJ Dillashaw has his sights set on reclaiming the top spot amongst the active bantamweight roster.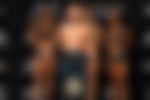 He said, "When Cejudo came in and won, he beat Moraes and shoot Moraes was no champion. He beat a guy who wasn't champion to get the bantamweight belt. He's got the cardio of a french bulldog and all he had to do was outlast him for a round and he's able to beat him."
"Then he beat Cruz coming off the couch, and he's ready to retire. Now he wants to be champion, he leaves, now Petr Yan beats the guy that's 0-2. To be honest man, the weight class is fu**ed up. It's ready for me to come back. I'm ready to throw a wrench in it all and get my belt back. I will be the most dominant."
"He had a little storybook ending"- Dillashaw
What's more, Dillashaw deconstructed Henry Cejudo's career. Chiefly, 'The Messenger' went from being a top contender to a Hall of Famer in a short span of time. There's no doubt that a Dillashaw vs Cejudo grudge match at bantamweight would draw in plenty of eyeballs. Not to mention, TJ Dillashaw certainly has no love lost for Henry Cejudo based on his warring words.
ADVERTISEMENT
Article continues below this ad
He continued, "I don't watch a lot of fights unless it makes sense for me to watch. I did watch the fight where he fought Cruz, I didn't watch where he beat Moraes. Watched the highlights of it and watched it afterward. I watched the Cruz fight. Very surprising, especially to come to like build this name that he's built and finally be able to reap the rewards of it and then he's like 'Ah, I'm out. To be honest, I think he knows he's not the best. The way his career worked out is very great for him."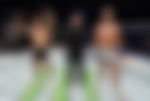 "He had a little storybook ending for himself and he did the same thing with wrestling. He kind of went out there and won a tournament, won a gold medal. I'll give him more credit for that than anything else he's done…I went out there and lost a fight with him at flyweight, which cemented him there and then for him to go back and be the double champion to bounce out. I think he's leaving on top knowing that he doesn't wanna have to challenge it because he's not the best."
ADVERTISEMENT
Article continues below this ad
TJ Dillashaw will have plenty of high-profile match-ups lined up for him on his return to the competition. Despite his misdemeanors, he still remains a major draw amongst the lighter weight classes.