"He Was Ready to Punch Someone"- UFC World Goes Berserk as Conor McGregor Rages Out at Fans After an Awkward Meeting
Published 05/31/2022, 7:09 AM EDT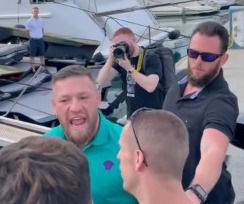 Former dual weight world champion and UFC star, Conor McGregor is undoubtedly one of the biggest names in mixed martial arts. The Irish fighter trail-blazed his way to the top and also raked in over $100 million in the process. His in-ring antics and brash personality, with never minces his words, earned him the moniker, 'The Notorious'.
Famous for his insane knockouts and unmatched mic skills, McGregor is certainly a force to be reckoned with. However, his aura of mystique has definitely been doused down since suffering a few losses. The mixed martial artist has even been spotted losing his temper in the public gathering, leaving a poor impression on fans.
ADVERTISEMENT
Article continues below this ad
A sudden temper flare shocked fans of Conor McGregor
With multiple infractions to his name, it is no surprise that the former champion likes to keep his privacy. Often, the stardom of this magnitude blurs those lines. Because fans find it hard to keep their composure.
Recently, fan interaction with the UFC star quickly took a weird turn that once again painted him in a negative light. In one instance, McGregor was smiling and engaging with the fans. Meanwhile, in the subsequent moment, he seemed visibly flustered with the mob as he demanded everyone to," Please move back".
 

View this post on Instagram

 
It is unsure what really irked the star, but UFC fans surely took note of his behavior and even mocked him for pushing back the mob.
UFC fans react to Conor McGregor losing his cool
One fan stated that the mixed martial artist might take the fight, "He'd take the fight too since he knows he could actually win this one." Others seemed quite appalled and even stated that something bad was going to occur."He was ready punch on someone."
ADVERTISEMENT
Article continues below this ad
Also, another UFC fanatic wished to see the aftermath of the events, as the video didn't reveal what had happened next. "Where's the rest of the video? Lol it was just about to get good."
Watch this story: Everything You Need to Know About Conor McGregor's New $3.6 Million Toy
McGregor's fans jumped to his defense, claiming the fans breached his privacy. A comment said, "So when did it become mainstream not to respect someone's privacy." 
ADVERTISEMENT
Article continues below this ad
Indeed, fame is a double-edged sword that can help you win in life, but also adds unwanted chaos. One user wrote, "Let's be honest, when you get this famous, people don't respect any of your private space." Some fans continue to find him to be a great comedic relief, as a commenter said, "I used to not like this guy but now he's just pure comedy."
Do you agree with the fans' take on the incident? Leave your thoughts in the comments below.