"He'd Fallen Out of Favor" – Ex- UFC Fighter, Vice Premier of Chechen Dictator Kadyrov, Reportedly Dead at 31
Published 12/30/2022, 8:15 AM EST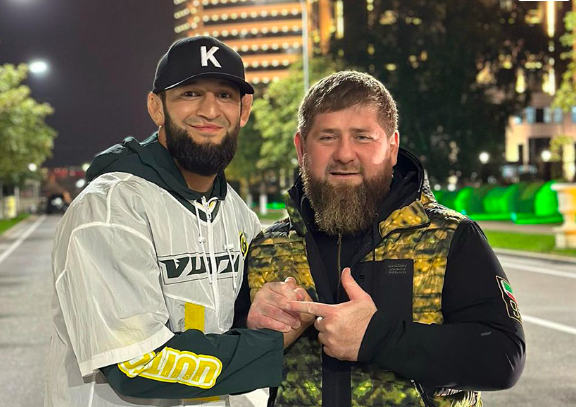 A former UFC fighter has been reported to have died in uncertain circumstances. The news was first broken by Chechen opposition movements 1ADAT and Niyso. The fighter made his UFC debut back in 2017. He was initially supposed to debut much earlier in 2015, but a failed drug test delayed plans. Abdul-Kerim Edilov hailed from Tsentoroi, the same village that Kadyrov hails from, which makes them part of the same clan (Teip). He fought in the Light Heavyweight division in the UFC and won his debut fight in the second round against Bojan Mihajlovic by TKO. He, however, never fought in the UFC again.
Edilov instead chose to work for Chechen leader Ramzan Kadyrov. He started working closely with his kids and started teaching them martial arts. They used to go to tournaments at Kadyrov's gym 'Akhmat'. Edilov had trained in the same facility. It is speculated that the fights there used to be fixed with pre-determined winners.
Was UFC fighter Abdul-Kerim Edilov assassinated by Ramzan Kadyrov?
ADVERTISEMENT
Article continues below this ad
Reports suggest that Edilov may have "fallen out of favor "with the Chechen supremo. Edilov had last featured in a video with Kadyrov during the early stages of the war between Russia and Ukraine. It's also noteworthy that Kadyrov himself has not sent out any messages of condolence to Edilov's family and supporters. The reasons for his death are unclear. These circumstances are fanning the rumors that Edilov may have been murdered by Kadyrov.
Chechen activists are reporting that former UFC fighter Abdul-Kerim Edilov has died at age 30.

Edilov was a nanny for the dictator's sons before becoming vice premier.

Circumstances surrounding Edilov's death are unclear but should note he'd fallen out of favor w/ Kadyrov pic.twitter.com/mQK3veemaT

— Karim Zidan (@ZidanSports) December 29, 2022
It's heartbreaking that the MMA world lost a potent fighter at such an early age
UFC Fighter, Nanny, Deputy Prime Minister
ADVERTISEMENT
Article continues below this ad
Abdul-Kerim Edilov was only 31 years of age. He, however, had traveled quite some distance in his life. While he started as a nanny and coach for Kadyrov's kids; he soon made a place for himself in the government and became the chief of staff. As he gained Kadyrov's confidence, he rose to the position of Vice Premier, which roughly means the Deputy Prime Minister. Recently, though, things had not been falling into place for Edilov.
He resigned from his position in November. He had also stopped appearing alongside Kadyrov or his children. UFC fighter Khamzat Chimaev had taken the responsibility of coaching his kids instead.
ADVERTISEMENT
Article continues below this ad
It may have been a different story for Edilov if he had taken some other decisions in life. Fans will feel sad about a promising fighter departing so early.
Watch This Story: Joe Rogan gets fooled by Father-Son Boxing Video
Edited By: Vineet Nandwana