"He's Going to Shock a Lot of People": Fans Stunned With "Pretty Sick" Video of Sean O'Malley in a Grappling Fight Amid UFC Champ Aljamain Sterling Back and Forth
Published 05/25/2023, 8:41 PM EDT

Follow Us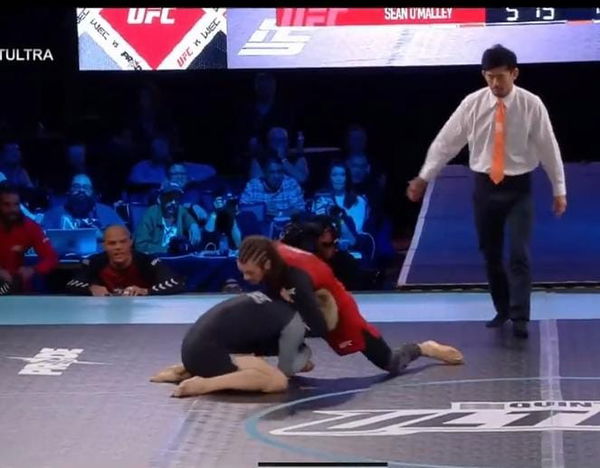 As the Octagon awaits his next performance, fans eagerly anticipate witnessing the next chapter in Sean O'Malley's extraordinary journey. But the bantamweight's back-and-forth beef with Aljamain Sterling, coupled with their upcoming bout has definitely frenzied fans. O'Malley's recent tweet insinuated yet another spark in the beef. What's surprising is that, amidst all this, a 'pretty sick' submission video of 'Suga' has gone viral on social media.
O'Malley first burst onto the scene during his tenure on Dana White's Contender Series in 2017, where he delivered a stunning knockout victory with a highlight-reel-worthy walk-off finish. Since then, he has continued to captivate audiences with his exhilarating performances, securing an ever-growing fanbase along the way.
Fans react to Sean O'Malley's impressive grappling skills
ADVERTISEMENT
Article continues below this ad
In a recent Twitter video, Sean O' Malley was seen having a gala time defending himself against Takanori Gomi at the Quintet Ultra. The Japanese MMA artist was clearly no match for Sean's skills or prowess. The video showed O'Malley easing into a guillotine choke win over  Gomi in less than three minutes.
At the Quintet Ultra, the bantamweight fought three bouts – first, he beat Gomi, then went on to lose to Hector Lombard via ankle lock in under a minute. His next fight ended with a draw against Gilbert Melendez, concluding the competition with a 1-1-1 record.
Fan reactions to the viral video have been overwhelmingly positive. Expressing newfound excitement, fans discovered O'Malley's grappling prowess as they eagerly await his upcoming fight. Many people underestimate O'Malley's grappling abilities, but fans believe he will surprise them when facing Aljamain Sterling.
Let's take a look at some of the reactions from fans on Twitter.
"Sh*t's more exciting for me now that I've watched this, didnt know about this one. can't wait for the fight !"
"Sean's grappling is severely underrated. Most people think he sucks at grappling lol"
"I'm so excited for Sean to show his skills on the ground. I've seen flashes of it on his fights and I know he works on it so I think he's going to shock a lot of people when he fights aljo"
"Pretty sick, didn't know these occurred with the UFC vs Pride"
The video garnered attention for its impressive display of grappling techniques, capturing O'Malley's ground prowess. Fans compared it to legendary matchups, noting similarities between UFC and Pride events. As the beef intensifies between O'Malley and Sterling, the viral video of O'Malley's grappling skills adds excitement and intrigue to their upcoming fight.
The heated rivalry continues: Aljamain Sterling and Sean O'Malley
The never-ending beef between 'Aljo' and 'Suga' has been making newer headlines after Sean's recent callout to Sterling. The prolonged beef between the duo indicated that Sterling would respond. It took some time for 'Funk Master' to notice his rival's tweet targeting him. After an hour and 40 minutes, he delivered a fitting reply.
Sterling chose to ridicule O'Malley for repeatedly declining a Bantamweight title shot despite opportunities. His tweet read,
ADVERTISEMENT
Article continues below this ad
"Shane "I ain't bout that life, give me more time" O'Malley".
Watch this story: Take a Look at Some of Joe Rogans Best Animal Impressions
ADVERTISEMENT
Article continues below this ad
The ongoing beef between Sterling and O'Malley has persisted for a while. This remark from 'Aljo' also reflects the urge that both fighters share to square off inside the octagon. But fans have grown weary of the talking and tweeting. Many believe it's time for the two fighters to settle their differences inside the Octagon. What do you think of this ongoing feud? Will this culminate into a blockbuster bout? Drop your thoughts in the comments below!