'He's Gonna Be Crying' – Colby Covington Predicts Death for Dustin Poirier at the Hands of Con-Man McGregor
Published 01/23/2021, 2:15 PM EST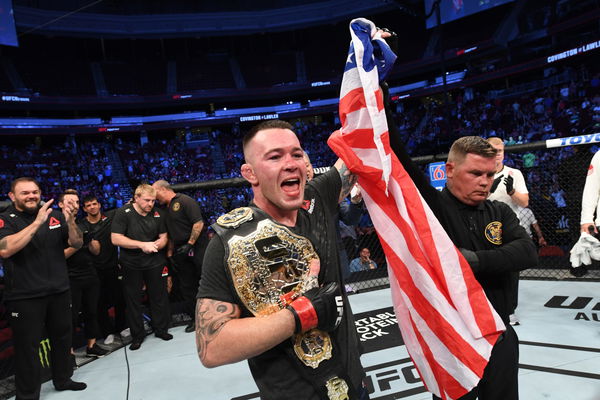 ---
---
Colby Covington has never chided away from expressing what he really feels about former teammate Dustin Poirier. The latter is ready to headline this weekend's UFC 257 headliner against Conor McGregor. Given how vocal Covington has been towards Poirier, there was no way he would've let the opportunity to predict a loss for his teammate pass by.
ADVERTISEMENT
Article continues below this ad
In what has become a fairly regular trend, Covington took to Instagram to announce his picks for the rematch between McGregor and Poirier. The relation between the interim champ and his former teammates at ATT has been rather tumultuous. Covington is sure about 'The Diamond' going down this weekend. He's a step ahead of that and hopes to even see him cry at the press conference.
ADVERTISEMENT
Article continues below this ad
"Tonight we're back at UFC 257 and in the main event, we got Con-Man McGregor vs the beta man ultimate feelings champion Dustin Sorrier. Dustin, I'm not like that Judas you're hanging around that's gonna be rooting against you behind your back. I tell you straight up to your face. This weekend is no different. You were hand-selected because you can't wrestle, and you're easy to hit," Covington said in an Instagram post.
"Since there is no bet or prop on you crying this weekend, we're gonna take the next best thing – you dying… Once Dustin gets sparked, he's gonna be crying in the press conference," he added.
Colby Covington hasn't had the best of records with his prediction lately
'Chaos' only stepped foot once inside the Octagon in 2020. However, he has been rather active on Instagram when it comes to giving out his verdict for UFC events. As good of a professional fighter that the self-proclaimed 'People's Champ' is, his prediction's record has been worse than that of a coin toss.
ADVERTISEMENT
Article continues below this ad
Ever since the UFC started its operations after the pandemic halted the same, Covington has made thirteen UFC predictions on his Instagram. Excluding the one where he predicted his win over Tyron Woodley, Covington has a paltry record of 5-7. Hence, if we factor into the past record, Poirier shouldn't mind listening to a few barbs from his former stablemate if it increases his chances of a win.
As for Covington himself, he named two opponents following his win over Woodley. Covington wishes to settle his score with Jorge Masvidal inside the Octagon. If everything goes as per his plan for 'Chaos', he may find himself fighting for the title once again.
ADVERTISEMENT
Article continues below this ad