HILARIOUS: Francis Ngannou Compares Joe Rogan to Brock Lesnar in Recent Post
Published 06/28/2021, 5:30 AM EDT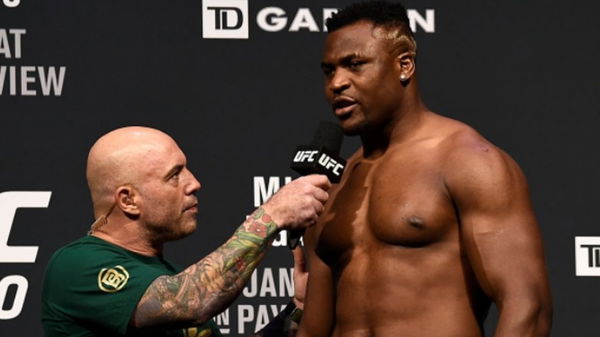 UFC heavyweight champion Francis Ngannou took to social media and shared a hilarious post that had fans feeling nostalgic. The Twitter post saw an image comparison between Francis Ngannou and Joe Rogan on one side and Shaquille O'Neal and Brock Lesnar on the other end.
ADVERTISEMENT
Article continues below this ad
Ngannou pointed out the height disparity that exists in the picture and compared Rogan with Lesnar.
ADVERTISEMENT
Article continues below this ad
The image of Shaquille O'Neal with Brock Lesnar is an iconic image grab that showcases a completely different era in MMA. Fans look back fondly at those times as MMA had truly begun to take off back then. Not to mention, the star power that exists within the fabric of the images posted by Ngannou is also something to marvel at.
Francis Ngannou: Larger than life
'The Predator' is beloved by the MMA community. They adore him not only for his terrifying KO power but also for his affable nature outside the cage. Fans have gravitated towards Ngannou because there's always more than meets the eye with him. Now that he's the UFC world champion, he's bound to reach a larger audience and impact more people.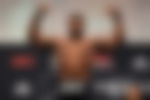 In fact, Joe Rogan has played a vital role in helping to bring more notoriety to Ngannou through his podcast. Francis Ngannou has appeared on 'The Joe Rogan Experience' podcast and has worn his heart on his sleeve in many ways. He's candidly spoken about his troubled upbringing in Cameroon, Africa, and how it has impacted him significantly.
ADVERTISEMENT
Article continues below this ad
Rogan's platform has given many fighters the opportunity to showcase new sides to themselves, and Ngannou was one of them. As fans have got a sense of the type of man he is, they have formed a deep connection with him over the years. Rogan being in Ngannou's corner right from the beginning is definitely one reason why they are so close.
ADVERTISEMENT
Article continues below this ad
There's a lot more to uncover about Ngannou's personality and fans are now thoroughly invested in his journey. Not to mention, he'll keep on reaching a large audience if he continues securing highlight-reel finishes. The future is certainly bright for 'The Predator' going forward
Watch this story: UFC Champions Who Never Successfully Defended Their Belts