HILARIOUS: Joe Rogan, Daniel Cormier and Jon Anik's Reaction to Rose Namajunas KO is Epic
Published 04/25/2021, 8:56 AM EDT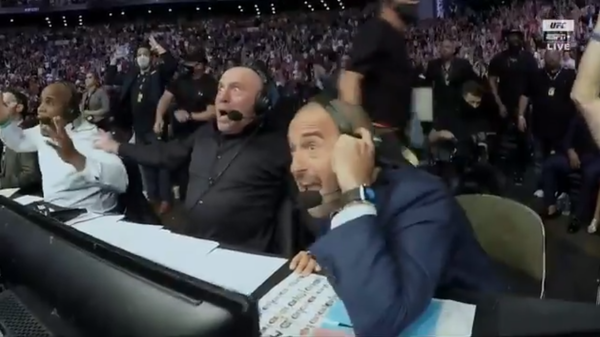 ---
---
UFC 261 ended with some great results, but there was none more shocking than Rose Namajunas' knockout victory over Weili Zhang.
ADVERTISEMENT
Article continues below this ad
Everyone touted this fight to be one of the best of the evening, as both the fighters are outstanding at what they do. However, the fight ended in the first round itself when 'Thug Rose' knocked out Zhang with a head kick.
The fight lasted just 78 seconds, and it shocked everyone to see such a finish. There were various reactions from everyone. However, the best was the most instant reaction by the UFC commentary team.
ADVERTISEMENT
Article continues below this ad
We can see the whole commentary team along with the fans reacting ecstatically to Namajunas's victory. This knockout victory deserved such a reaction and not only was the knockout great, but the victory was even more special as this was Weili Zhang's second loss.
The fighter had come into the fight with a 20 match win streak and was thus being touted as a favorite by many fans and critics. Namajunas, however, had different plans and executed them beautifully to win the fight.
The scenes after the fight clearly reflected what it meant to both fighters as Namajunas fell to her knees in tears, while 'Magnum' was seen protesting the referee's decision to stop the fight.
What did Rose Namajunas and Weili Zhang say after the fight?
Zhang seemed a bit fazed by the referee's decision to stop the fight as she said, "I am still conscious. The referee stoppage was a little early."
Although Zhang seemed to believe she could have continued further, the kick from Namajunas clearly seemed to shake Magnum's consciousness.
ADVERTISEMENT
Article continues below this ad
While Namajunas said, " I did it again. But God did it man, I really just had to have faith, and that's what got me through."
ADVERTISEMENT
Article continues below this ad
The fight was a really interesting one as Zhang's plan from the start seemed to be to slow down Namajunas's movement and she constantly tried to get many low kicks in. Namajunas stayed calmed and grasped her moment with a great kick to the head.
The knockout from Namajunas was a great one, and so was the reaction by everyone around. Namajunas and Zhang are both exciting fighters. Therefore, we as fans would love to see both these fighters back in action as soon as possible.