HILARIOUS: Joe Rogan Gets Smashed in the Stomach During Practice Sessions
Published 01/02/2021, 6:30 AM EST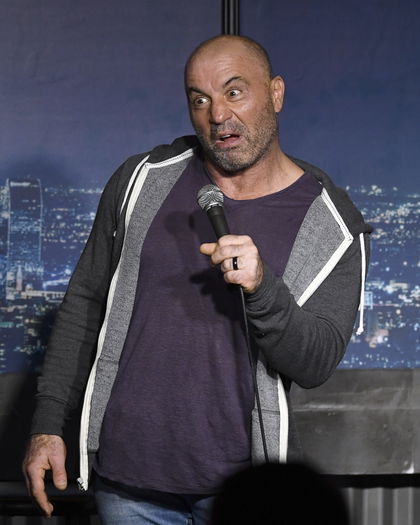 ---
---
UFC color commentator Joe Rogan is a long-time martial arts practitioner. One of the things Rogan is famous for is his insanely powerful kicks.
ADVERTISEMENT
Article continues below this ad
In a Twitter video, he was seen practicing those kicks with a disciple. But unfortunately for Rogan, it didn't end too well as he got smashed in the stomach while talking to the camera. It was a hilarious video, to say the least.
ADVERTISEMENT
Article continues below this ad
Joe Rogan's kicks sound like gunshots. His kicking power is highly respected in the world of MMA. He also beat a Muay Thai champion in a kicking power challenge. What's more impressive that Rogan was 52-years-old at that time.
Certainly, his technique stands out from others. It's scary how much those kicks echo when landed on a pad. Fighters must feel comfortable knowing they don't have to ever handle Rogan's kicks in competition.
Rogan is a long time Taekwondo practitioner. In his younger days, he managed to knock his opponent out cold with only one spinning kick.
He has trained with famous coaches and fighters all over the world. Duane Ludwig and Georges St-Pierre are some to name. It would have been fascinating to see how Rogan could have coped with actual high-level competition during his younger days.
Perhaps his spinning kicks are his strongest asset. The torque and the power he generated on those techniques are just unbelievable.
Joe Rogan shocked GSP with his kicking power
Rogan has trained with the former UFC welterweight and middleweight champion Georges St-Pierre. 'Rush', who has been in the octagon with some of the scariest fighters in the world, was shocked when he saw Rogan's kicks.
ADVERTISEMENT
Article continues below this ad
Later St-Pierre came to Rogan's podcast JRE. He said he had been trying to perfect his technique inspired by Rogan. But, he acknowledged that he hadn't mastered it yet like Rogan.
"When you did that, it was completely insane… I'm still working on it, by the way. But I can't do like you do with my knee coming out," said GSP.
ADVERTISEMENT
Article continues below this ad
What do you make of Joe Rogan's kicking prowess? Did you find the latest Twitter video hilarious?