"Home Soil in America" – Drama at UFC 286 as Leon Edwards Confronts Colby Covington Right After Defeating Kamaru Usman
Published 03/18/2023, 8:27 PM EDT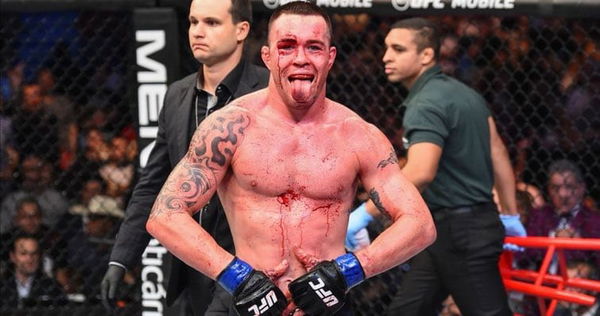 Leon Edwards successfully defended his title against Kamaru Usman at UFC 286 in London. Edwards was coming off a fresh knockout win against Usman in one of the most iconic comebacks in UFC history. The pair went the distance in a back-and-forth war in the O2 Arena before Edwards earned the judges' nod.
There were questions about both fighters as they walked in for the fight. While many doubted if Edwards could repeat his success against Usman, others were unsure if Usman had physically and mentally recovered from his knockout loss.
ADVERTISEMENT
Article continues below this ad
Since his loss to Kamaru Usman in 2015, 'Rocky' has put together an impressive 10-fight win streak, including his win over Usman. The Jamaican-born athlete was well-placed to make history and continue his historic run.
As for the former champion, he lost everything, as he was on the cusp of greatness. 'The Nigerian Nightmare' had put together a massive 15-fight win streak in the UFC while also remaining undefeated in the promotion. In doing so, he had surpassed divisional great Georges St-Pierre's record of consecutive wins in the UFC welterweight division. Edwards put him to sleep when he was seconds away from tying Anderson Silva's 16-fight UFC win streak.
Therefore, the pressure was equally on Usman to come back from losing years of hard work.
Fans react to Usman vs. Edwards 3 at UFC 286
Edwards and Usman went after it from the very first bell. Both fighters looked evenly matched as they tried to gain an edge over the other. Apart from a point deduction from Edwards for a fence grab in the third round, the fight remained competitive. Leon Edwards found marginally more success with his leg kicks and body kicks and on-point takedown defense. On the other hand, Usman landed his own shots and took Edwards down a few times as well.
Following the fight, the champion addressed top welterweight contender Colby Covington in the post-fight interview.
ADVERTISEMENT
Article continues below this ad
Edwards expressed interest in fighting Covington in Miami. Covington, who was present in the crowd, also mouthed off words at the reigning champion.
ADVERTISEMENT
Article continues below this ad
What did you guys think of the Edwards-Usman trilogy at UFC 286? Do you want to see Edwards vs. Covington next? Let us know in the comments below.