How Much Did T.J. Dillashaw Earn From His UFC Title Fights?
Published 07/20/2021, 1:19 PM EDT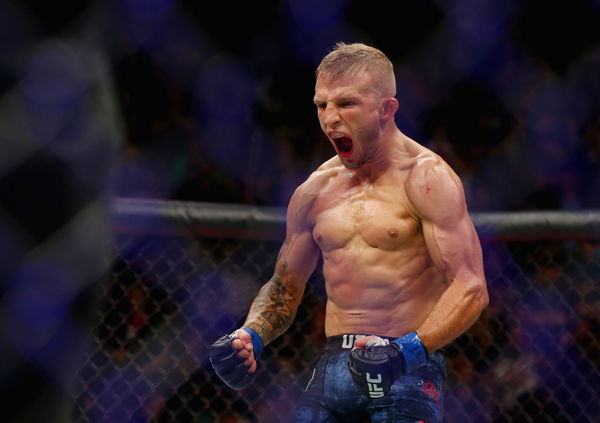 ---
---
T.J. Dillashaw is often considered one of the greatest UFC fighters of his era. The former two-time UFC bantamweight champion is set to enter his 21st MMA fight at UFC Vegas 32. Dillashaw is returning to action after a hiatus of 2 years as the fighter was banned because of a failed drug test.
ADVERTISEMENT
Article continues below this ad
Dillashaw will face Cory Sandhagen on his return. As Sandhagen is ranked No.2 in the UFC rankings, Dillashaw would expect to get a victory over him and challenge for the title. Although, there is still some way to go before Dillashaw can win the title again.
ADVERTISEMENT
Article continues below this ad
Therefore, today, we looked at the money he earned for his previous UFC title fights. Dillashaw first won the UFC bantamweight title back in 2014. He defeated Renan Barao via a 5th round KO at UFC 173 to win the title. For this fight, Dillashaw made $136,000, he made $18,000 to show and $18,000 win bonus. The fighter also earned a $50,000 Fight of the Night bonus and a $50,000 Performance of the Night bonus.
This was Dillashaw's first big payday in the UFC and he never looked back from there. For his next title defense against Joe Soto, the fighter made $150,000. While for his rematch with Barao, he ended up making $210,000.
Dillashaw then faced Dominick Cruz at UFC Fight Night 81. Dillashaw lost that fight via split decision and lost his title. Despite his defeat, the fighter ended up making $160,000.
T.J. Dillashaw's second title run
After his loss against Cruz, Dillashaw gathered momentum and won 2 back-to-back fights which garnered him a title shot. He then faced Cody Garbrandt at UFC 217 for the title. Dillashaw won that fight via a 2nd round KO and reclaimed the title.
For his victory against Garbrandt, he earned $280,000. However, for his very next fight, his rematch with Garbrandt Dillashaw ended up earning almost double that. He earned a mammoth $440,000 for successfully defending his title.
ADVERTISEMENT
Article continues below this ad
Dillashaw's last fight before his ban was against Flyweight legend Henry Cejudo. Dillashaw lost that fight via a first-round TKO. However, he ended up making $380,000 for the fight.
Dillashaw's total career earnings come to $2,214,000 and he would certainly like to increase that when he faces Cory Sandhagen next.
ADVERTISEMENT
Article continues below this ad